Blue Sugilite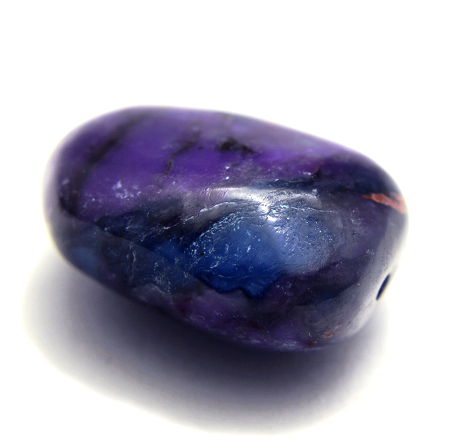 Love and Relationships

[1]

Understand another correctly


[2]

Tell feelings honestly


[3]

Stabilize relationships


[4]

Build a sincere relationship


[5]

Heal wounds of love affairs

Money and Business

[1]

Remain calm


[2]

Understand things correctly


[3]

Solve problems


[4]

Get a good idea


[5]

See another's intentions

Other Energy

[1]

Balance the mind


[2]

Help control emotions


[3]

Strengthen intuition


[4]

Facilitate communication


[5]

Be honest to yourself

Blue Sugilite is a gemstone that balances the mind. It is known as a guardian stone with excellent healing meaning and prosperities. Blue Sugilite has been believed to clarify and solve problems in mind. Use it when your heart is unstable due to stress or when you want to gain mental strength.
---
Blue Sugilite is also said to be a gemstone to know the true intention. It has been believed that you truly understand what you are thinking. When a person comes into society, he/she tends to miss true self. Since there are a lot of information around you, you don't know whether you are thinking about what people think or what you think. It seems you move with your own will, but you may just be moving according to the manual you saw somewhere. Blue Sugilite pulls out the real intention that sleeps deep in the owner. I will support you so that you can move that thought correctly. By moving honestly, you release the stress I felt unconsciously.
---
Blue Sugilite also includes the meaning and prosperities of controlling emotions. People embrace various emotions in everyday life. Getting along well with emotion energy will generate explosive energy; on the other hand, running out of control will result in great stress. Especially emotions such as "anger, sorrow and anxiety" are dangerous unless you control well. Blue Sugilite is a gemstone to heal and clear negative emotions. Try the power of Blue Sugilite if you are a person of moods, or if your emotions tend to be unstable.
---
Blue Sugilite releases the owner's subconscious mind. It is a gemstone that has meaning and prosperities to enhance intuition and sensitivity. It is said that it makes it easy to receive various messages by using it. It is useful when you want good ideas, when you want to see the essence of things. It is also used when you want to understand people's feelings and emotions correctly.
---
Blue Sugilite is a very valuable gemstone. Because it is not available to consumers on the market so much, you have a hard time finding it. Since it is a guardian stone with a wonderful power, please search for it with patience if necessary. Because it is a rare stone, it is traded at a price that is the similar as jewels. Because it is more expensive than a normal gemstone, it is a good idea to investigate the market in advance. Sugilite has imitation items, so you should not jump to cheap items. To buy rare stones cheaply is associated with high risk. Please purchase at a shop with a long sales record that offers regular price.
Chakra Chart of Blue Sugilite
9th Heaven Chakra
[God]

8th Air Chakra
[Cloud]

7th Crown Chakra
[Soul]

Blue Sugilite
[Wisdom] Thinking Ability

5th Throat Chakra
[Voice]

4th Heart Chakra
[Love]

3rd Solar Plexus Chakra
[Light]

2nd Sacral Chakra
[Guts]

1st Root Chakra
[Life]

0th Earth Chakra
[Person]
Combination

+ Charoite
Repair the influence of the past
Author Hayasaka Yoshino

Hayasaka Yoshino is a stone healer that usually works in Tokyo area, Japan. Yoshino is also famous as a fortune teller and seen over 10,000 people. "Fortune-telling counseling", which finds out the best gemstone for the client, received a high reputation. Representative director of LWE Co., Ltd.
Other Gemstone Recommendation