Goldstone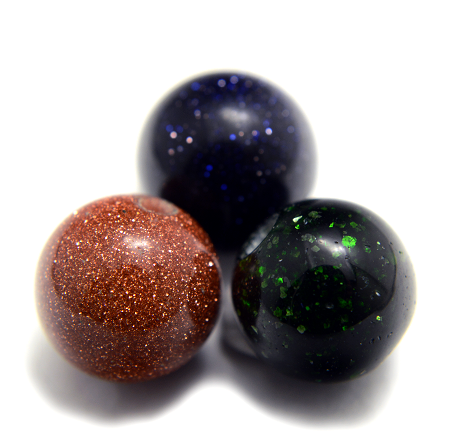 Goldstone has meaning and properties of enhancing creativity. It is a useful gemstone to embody the image in your mind. You would be able to have support to create what you want to make. This gemstone fits well with creative work.
---
Goldstone is a gemstone with meaning and properties of achieving goals. It is used to reach your goals in the shortest distance. It would be good to use if you only have limited amount of time or labor. You can have good success and make your wish come true.
---
Goldstone can make its owner's mind calm. It is a gemstone for adjusting emotion balance. It can grow strong mind that won't be affected by others or things. This gemstone is also good to use when you want to reduce nervousness or anxiety.
---
Goldstone is a kind of glass that has sparkles inside. Metal is put in when it is produced. Although it is an artificial gemstone, there are many fans of it. It is sold as an amulet in many places in the world. While it expanded around the world, special meanings and properties were appended. It is a gemstone to use with a wish from your heart.
---
Goldstone is a shiny brown gemstone. It looks more like bronze than gold. There are also blue-colored Blue Goldstone and green-colored Green Goldstone. They each has different special qualities, so please choose the type that fits your purpose. It is usually made into bracelets and necklaces.
---
Goldstone has meaning and properties to fill up lacked energy. This gemstone is used to get back to energetic state. It will be useful when you want to work a little more. It also has the power to remove blockage of energy supply. It is a gemstone that can purify negative part and make everything clean.
---
Goldstone is a gemstone that is used as an amulet to ward off evil spirits. People have believed its meaning and properties of repelling evilness. The sparkling shine will reflect evil spirits just like a mirror. It is a gemstone to keep your state of mind clean. Please use it if you tend to be stressed out often from others.
---
Goldstone has meaning and properties of making its owner more appealing. The shine inside will increase its owner's charm to the maximum. It is good to use when you want to improve reputations from others. Please try the power of Goldstone if victory or defeat is determined by popularity.
Chakra Chart of Goldstone
9th Heaven Chakra
[God]

8th Air Chakra
[Cloud]

7th Crown Chakra
[Soul]

Blue Goldstone
[Wisdom] Thinking Ability

5th Throat Chakra
[Voice]

Green Goldstone
[Love] Tolerance

3rd Solar Plexus Chakra
[Light]

Brown Goldstone
[Guts] execution power

1st Root Chakra
[Life]

0th Earth Chakra
[Person]
Author Hayasaka Yoshino

Hayasaka Yoshino is a stone healer that usually works in Tokyo area, Japan. Yoshino is also famous as a fortune teller and seen over 10,000 people. "Fortune-telling counseling", which finds out the best gemstone for the client, received a high reputation. Representative director of LWE Co., Ltd.
Other Gemstone Recommendation