Blue Quartzite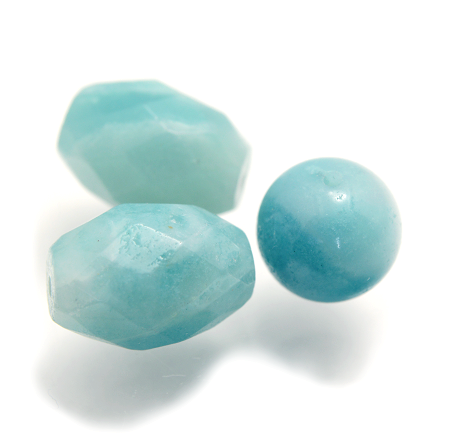 Blue Quartzite has meaning and properties of enhancing communication skills. This gemstone can help you tell your thoughts correctly to others. It would strengthen trust and bonds between people by smooth communication. Blue Quartzite is an amulet that can reduce nervousness or fear. It will be useful to overcome your shyness. It would give you courage to be friends with others.
---
Blue Quartzite has meaning and properties of enhancing expressive skills. It is a useful gemstone in the field of creativity. It would add originality to your work. This gemstone is also good for people who want to develop new products or service. You would be able to have support to create totally new value.
---
Blue Quartzite is a gemstone for adjusting energy balance. It is popular as a healing gemstone that can heal weary energy. This gemstone is often used to get back energetic mind. Blue Quartzite has meaning and properties of making the flow of luck calmer. It has the power to find out a breakthrough to get out from unstable luck flow. This gemstone would make a stable and peaceful situation.
---
Quartzite has several kinds of colors. Blue Quartzite is the most popular one. The shade of blue varies by the time and the place of production. Some would have lighter color, and some would have darker color depending on the time. The color of Blue Quartzite you can get will depend on your luck.
---
Blue Quartzite has components of Quartz. You can buy it in about the same price of Quartz. It is usually made into bracelets to wear. It looks similar to Amazonite, so you should be careful. Blue Quartzite is in a group of Quart and Amazonite is in a group of feldspar.
---
Blue Quartzite has meaning and properties of knowing your true mind. It is a gemstone for listening to true and honest voice of your heart. It would show you the right way to go by using the energy of heart well. Blue Quartzite can be used to close the gap between the ideal and the reality. It is also popular as an amulet to prevent compromising.
---
Blue Quartzite has meaning and properties of making your feelings positive. This gemstone can protect you from negative energy. It will be useful when you need to change your feelings. Blue Quartzite is also useful to be strong so that you can overcome difficulties. You would be able to overcome hardships and increase your mental level.
Chakra Chart of Blue Quartzite
9th Heaven Chakra
[God]

8th Air Chakra
[Cloud]

7th Crown Chakra
[Soul]

6th Third Eye Chakra
[Wisdom]

Blue Quartzite
[Voice] Expression

4th Heart Chakra
[Love]

3rd Solar Plexus Chakra
[Light]

2nd Sacral Chakra
[Guts]

1st Root Chakra
[Life]

0th Earth Chakra
[Person]
Author Hayasaka Yoshino

Hayasaka Yoshino is a stone healer that usually works in Tokyo area, Japan. Yoshino is also famous as a fortune teller and seen over 10,000 people. "Fortune-telling counseling", which finds out the best gemstone for the client, received a high reputation. Representative director of LWE Co., Ltd.
Other Gemstone Recommendation