Luna Flash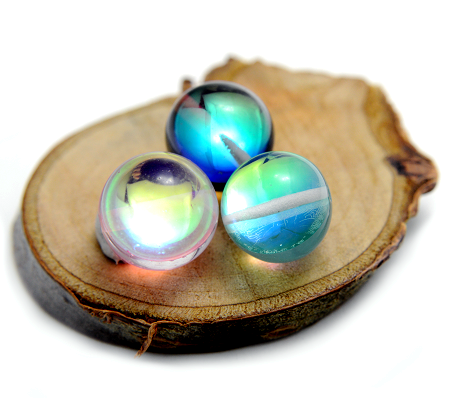 Luna Flash has the meaning and properties of smoothing human relations. It is a gemstone to sense human emotions. It will support you to understand other person deeply and lead to the right relationship. It is also recommended when you want to reconcile with someone.
---
Luna Flash is an artificial gemstone. It is made to resemble the natural stone Moonstone. Light in the inside is very impressive. As the name implies, it symbolizes "Moon". The moon means "kindness", "affection", "support", etc., and it has been regarded as important from ancient times. Luna Flash is used as an amulet for the moon. It is often used for the purpose of attracting other natural stones.
---
Luna Flash has the meaning and properties of attracting opportunities. It is popular as a gemstone attracting positive light. It's recommended to those who are interested in entertainment and art that need luck in time. Success will be accelerated by adding luck to your side.
---
Luna Flash is a gemstone that has meaning and properties to enhance creativity. It is used when you want to embody the floating image. It will support a success as an expressionist. Luna Flash is also effective when you want to increase your own fans. Positive fans will become your great wealth.
---
Luna Flash is a gemstone that eases the troubles of its owner. It makes you I understood the current situation correctly and shows the path of solution. It will prevent you from plunging yourself. Luna Flash is a gemstone that keeps you from getting down with small things. The energy of the light that lives inside illuminates the surroundings brightly. By broadening your horizons, you will be able to relieve your troubles. It is also recommended when you want to reconfirm what you are not alone.
---
Luna Flash has several color variations. Generally "white" and "transparent color" is popular. Colors of "blue", "pink", "brown", etc., also exist. Bracelet type is most popular, because you can enjoy its shine enough. Unexpectedly there are few dealerships, so please find out this gemstone with patience.
---
Luna Flash is a gemstone that has a meaning and properties to increase assets. It is used for purposes such as reducing waste. It will keep your mind calm, which steadily increases assets. Luna Flash is a gemstone for investing in people. It will affect people and grow them up big. Strong connections and fellows are great assets of life.
---
Luna Flash is a gemstone to open a closed mind. It will help to heal the wounds of the heart and release the heart. It is also recommended for people who want to improve familiarity. A bright heart attracts bright people. Please use it as an amulet of fulfilling good fellowship.
Chakra Chart of Luna Flash
White Luna Flash
[God] Creativity

8th Air Chakra
[Cloud]

7th Crown Chakra
[Soul]

Blue Luna Flash
[Wisdom] Thinking Ability

Blue Luna Flash
[Voice] Expression

Green Luna Flash
[Love] Tolerance

3rd Solar Plexus Chakra
[Light]

Brown Luna Flash
[Guts] execution power

Pink Luna Flash
[Beauty] attractiveness

Black Luna Flash
[Person] Will Power
Author Hayasaka Yoshino

Hayasaka Yoshino is a stone healer that usually works in Tokyo area, Japan. Yoshino is also famous as a fortune teller and seen over 10,000 people. "Fortune-telling counseling", which finds out the best gemstone for the client, received a high reputation. Representative director of LWE Co., Ltd.
Other Gemstone Recommendation