Basalt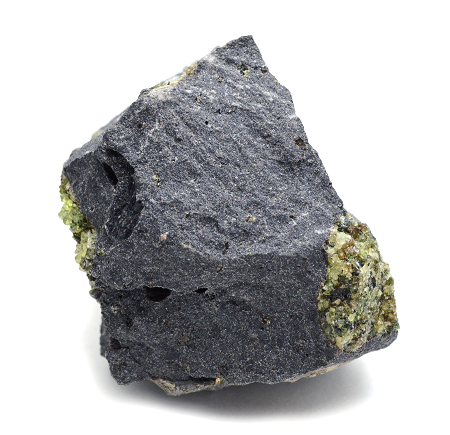 Basalt has meaning and properties of giving vitality to its owner. This gemstone was magma before, so it is filled with strong energy. It is also called as a gemstone with energy of heat and fire. It is a good amulet that can give you power to live through today and tomorrow.
---
Basalt has meaning and properties of giving courage to make progress. This gemstone can give you strength to open up your future. It can also give you strong mental power that won't be affected by obstacles or changes. It is recommended when you want to have strong self-confidence and will.
---
Basalt has meaning and properties of making your mind positive. This gemstone can help you get out from unfavorable and unproductive negative thinking. It would give you a chance to change yourself. It is a good amulet when you want to change the direction of your life.
---
Basalt is a kind of volcanic rock. It is categorized in igneous rocks that are made from magma cooled suddenly. It is a basic kind of rock that makes the surface of the Earth. People are receiving the power of Basalt a lot without noticing it. More than 90% of the volcanos on the Earth is made of Basalt. If you want to experience the higher power of Basalt, it is good to go on a volcano sightseeing tour. When you concentrate on your feet, you would be able to feel strong power from the ground. Also, the surface of Mars, Venus, and Moon are also mostly made of Basalt.
---
Basalt is mainly made from 3 types of minerals.
1. Olivine or Peridot
2. Plagioclase
3. Pyroxene
An ore or a specimen of Basalt with a lot of Peridot on its surface is very popular. It is hardly ever made into accessories, so please get an ore or a specimen. You may pick up some from volcanos, but some places prohibit to take them out. Please check carefully if it is allowed to take some home. Especially, it is better not to take some Basalt from holy volcanos.
---
Basalt has meaning and properties of reviving things. It has been valued as a gemstone of revival. You would be able to get the strength to stand up again and again. This gemstone will be a good amulet for you to try again on business or love that you are about to give up. It would give you power until you have the result you wish for. It is also good to use when you want to clear your regret.
---
Basalt has meaning and properties of enhancing its owner's creativity. This gemstone can let you create universal value. It will be useful to create everlasting work or service. It is also good to use when you want to leave your name or achievements to posterity.
Chakra Chart of Basalt
9th Heaven Chakra
[God]

8th Air Chakra
[Cloud]

7th Crown Chakra
[Soul]

6th Third Eye Chakra
[Wisdom]

5th Throat Chakra
[Voice]

4th Heart Chakra
[Love]

3rd Solar Plexus Chakra
[Light]

2nd Sacral Chakra
[Guts]

1st Root Chakra
[Life]

Black Basalt
[Person] Will Power
Author Hayasaka Yoshino

Hayasaka Yoshino is a stone healer that usually works in Tokyo area, Japan. Yoshino is also famous as a fortune teller and seen over 10,000 people. "Fortune-telling counseling", which finds out the best gemstone for the client, received a high reputation. Representative director of LWE Co., Ltd.
Other Gemstone Recommendation