Hornfels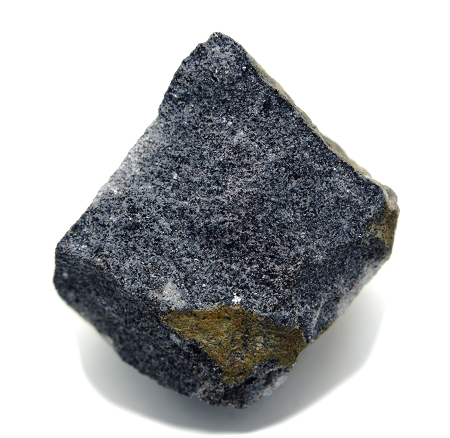 Hornfels has the meaning and properties to enhance mental power. It is an amulet not to defeat mental stress. It also gives courage and energy to confront challenges. It has the power to prevent from 'escaping from reality', 'buck-passing', and 'collapsing', and so on.
---
Hornfels has the meaning and properties to make feelings positive. It is a gemstone to prevent from being dominated by negative emotions and thinking. It is also used when you want to break the misfortune chain. On the contrary, it will draw a flow of good fortune. The good flow you grabbed once becomes the key to attract even greater luck.
---
Hornfels has the meaning and properties to enhance concentration. It is a gemstone to concentrate energy in one place. It dramatically increases the power and speed of things. It will be useful if you want big achievements. It is effective also when you want to advance your career earlier.
---
Hornfels is classified as rock. It is a kind of "Metamorphic Rock". It is born by "Sandstone" or "Mudstone" is overheated by magma. At first glance, it will not be distinguished from Mudstone. Hornfels produces "Biotite", "Iolite", "Andalusite" and so on.
---
The distribution volume of Hornfels is small. Since few people collect, it is hard to find it out. Please note that it is not sold at general gemstone shops. It is available from some shops that sell mineral specimens mainly. Since the price is cheap, you will be able to purchase it without much trouble. There is little to be processed into accessories. Raw stones and specimens are often used in a familiar place. Please put it in "entrance", "work desk", "bedroom", etc.
---
Hornfels has the meaning and properties to enhance creativity. It is a gemstone to embody an ambiguous image. It will be useful to realize a fertility and happy life. Hornfels has the power to enhance motivation for creation. Strong passion is indispensable for making works attracting people. It is the best amulet even when you want to maintain motivation.
---
Hornfels has the meaning and properties of amulet against evils. It is a gemstone to make you distance away from disadvantageous people and the environment. It prevents your energy from being absorbed. Peaceful environment will be restored. It is recommended when you need rest for both of mind and body. It will let you accumulate power until the time of re-activity.
Chakra Chart of Hornfels
9th Heaven Chakra
[God]

Gray Hornfels
[Cloud] Application

7th Crown Chakra
[Soul]

6th Third Eye Chakra
[Wisdom]

5th Throat Chakra
[Voice]

4th Heart Chakra
[Love]

3rd Solar Plexus Chakra
[Light]

Brown Hornfels
[Guts] execution power

1st Root Chakra
[Life]

Black Hornfels
[Person] Will Power
Author Hayasaka Yoshino

Hayasaka Yoshino is a stone healer that usually works in Tokyo area, Japan. Yoshino is also famous as a fortune teller and seen over 10,000 people. "Fortune-telling counseling", which finds out the best gemstone for the client, received a high reputation. Representative director of LWE Co., Ltd.
Other Gemstone Recommendation