Black Agate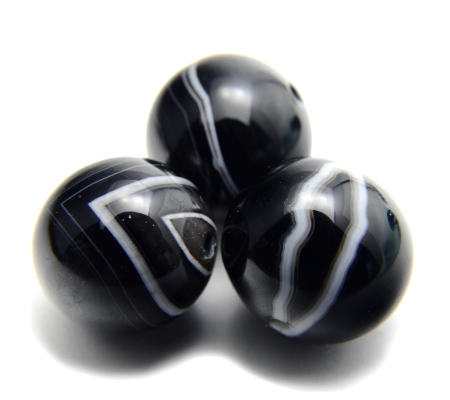 Black Agate has a meaning and properties to blossom potential ability. It is a gemstone to exert original capability thoroughly. It will give a chance to get out of unsatisfying state. It is also popular as a jewel to support 'independence' and 'self-support'.
---
Black Agate has a meaning and properties to calm feelings. It is a gemstone to keep chaotic feelings and thoughts in order. It will help to regain calm. Black Agate is also recommended when you want to identify the cause of stress. By beating off the original causes of stress, peaceful situation is restored.
---
Black Agate has a meaning and properties to increase the owner's will. It is a gemstone to face problems with courage and leads it to a solution. It prevents the heart from breaking off. It will make you reach the target point without giving up.
---
Black Agate is a black gemstone with striped pattern. A type with a white pattern is called "Black Onyx". If there is no pattern, it is called "Black Chalcedony". Black Onyx with no stripes is often distributed as "Black Agate". This is "Agate" which is a type colored black. Please note that the original Black Agate has a striped pattern. The amount of distribution is "no stripes"> "with stripes".
---
The distribution volume of Black Agate is large. You will find it soon from the general gemstone shops. It is also popular among gemstone beginners. The price is relatively inexpensive and it will be easy to obtain.
---
The design of Black Agate is quite plentiful. "Bracelets", "necklaces", "pierces", "round balls", "sculptures" and "polished tumble", etc., are on sale. The more beautiful pattern Black Agate has, the more it is treated as a luxury item. High quality Black Agate is artistically beautiful. Whether you can meet high quality type or not depends on the timing. Please get the beautiful Black Agate before it is gone out.
---
Black Agate has the meaning and properties to heal wounds of the heart. It is a healing stone to intensively heal the damage received. When the cause of injury is clear, Black Agate is recommended. It is the gemstone to get up at the fastest and restart the walk.
---
Black Agate has the meaning and properties to improve the flow of luck. It is a gemstone to relieve "anxiety", "fear", "sorrow" and "anger" which become the sources of negative energy. It helps to stop unfortunate flow. It will give you a chance to overcome the pinch.
Chakra Chart of Black Agate
9th Heaven Chakra
[God]

8th Air Chakra
[Cloud]

7th Crown Chakra
[Soul]

6th Third Eye Chakra
[Wisdom]

5th Throat Chakra
[Voice]

4th Heart Chakra
[Love]

3rd Solar Plexus Chakra
[Light]

2nd Sacral Chakra
[Guts]

1st Root Chakra
[Life]

Black Agate
[Person] Will Power
Author Hayasaka Yoshino

Hayasaka Yoshino is a stone healer that usually works in Tokyo area, Japan. Yoshino is also famous as a fortune teller and seen over 10,000 people. "Fortune-telling counseling", which finds out the best gemstone for the client, received a high reputation. Representative director of LWE Co., Ltd.
Other Gemstone Recommendation