Obsidian Opal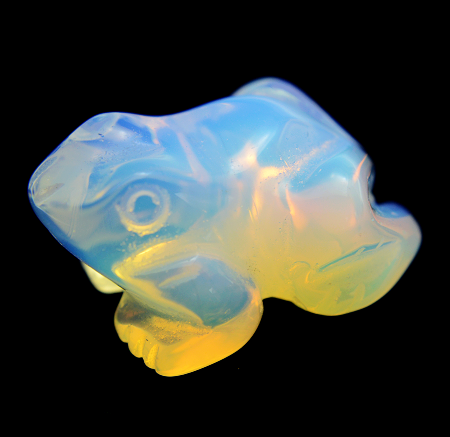 Obsidian Opal has the meaning and properties to restore lost energy. It is a gemstone with "energy of light". You will regain your usual energy with this gemstone. It is also recommended when you want to get out of a stagnant state.
---
Obsidian Opal has the meaning and properties to improve human relations. It is popular as a gemstone that enhances communication skills. It will maintain an ideal human relationship. It is also effective when you want to make many friends. You will gain the power to build a rich human network.
---
Obsidian Opal has meaning and properties to suppress emotional fluctuation. It is a gemstone to keep cool headedness and calm. It will adapt the owner to any environment. Obsidian Opal also has the power to control the exhaustion of mental power. It is a gemstone which prevents the condition of the heart from collapsing.
---
"Obsidian Opal" is a gemstone with many aliases. Below is a list of alias information.
"Synthetic Opal"
"Opalite"
"Sea Opal"
"Opal Moonstone"
"Opal Quartz"
Obsidian Opal is an artificial glass that resembles Opal. It is not a natural stone. Therefore, please note that it is different from natural stones of "Opal", "Obsidian", "Moonstone" and "Quartz". It is likely to be used as a decorative stone in many cases.
---
Obsidian Opal is a white gemstone. As it is an artificial glass, there is a sense of transparency. The atmosphere is similar to a high quality Opal. There are types that look like "blue", "green", "yellow" and "pink". Although it is not a natural stone, beautiful coloring is very attractive.
---
The distribution volume of Obsidian Opal is normal. If you search several gemstone shops, you will find it. They are processed to "bracelet", "necklace", "earrings", "figurines" etc. As the price is inexpensive, it will be easy to try it.
---
The Obsidian Opal has the meaning and properties to enhance the owner's confidence. It is a gemstone that makes you be born again to a strong self. It will give you "talent", "love" and "vitality" indispensable for improving confidence. Please use it when you want the strength to survive your life.
---
Obsidian Opal has the meaning and properties to set the direction of life. It will prevent things from being incomplete. It is a gemstone that makes you become close to the ideal life. It helps to raise the feeling of happiness every day.
Chakra Chart of Obsidian Opal
Obsidian Opal
[God] Creativity

8th Air Chakra
[Cloud]

7th Crown Chakra
[Soul]

6th Third Eye Chakra
[Wisdom]

5th Throat Chakra
[Voice]

4th Heart Chakra
[Love]

3rd Solar Plexus Chakra
[Light]

2nd Sacral Chakra
[Guts]

1st Root Chakra
[Life]

0th Earth Chakra
[Person]
Author Hayasaka Yoshino

Hayasaka Yoshino is a stone healer that usually works in Tokyo area, Japan. Yoshino is also famous as a fortune teller and seen over 10,000 people. "Fortune-telling counseling", which finds out the best gemstone for the client, received a high reputation. Representative director of LWE Co., Ltd.
Other Gemstone Recommendation