Metamorphic Rock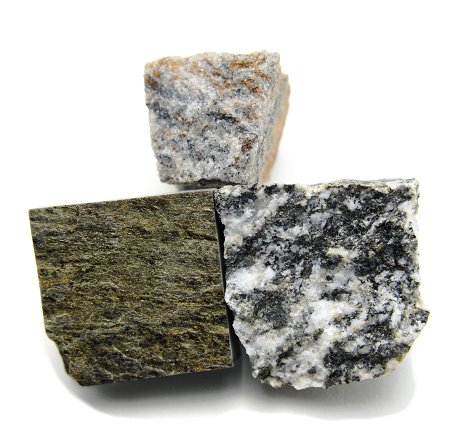 Metamorphic Rock is a rock that has changed under high-temperature and high-pressure environment. If you touch Metamorphic Rock, you can feel its strong energy. You can get back your vitality or passion if you use it as an amulet. Rock specimens, building materials, and accessories are sold at stores.
---
Metamorphic Rock is basically formed as follows.
1. Rocks get buried under the ground
2. The bedrock slowly moves
3. The bedrock sinks
4. It goes deeper underground
5. Goes under heat and pressure of underground
6. The structure and the type of mineral starts to change
7. Changes into a new kind of rock
8. Becomes a Metamorphic Rock
This kind is called Regional Metamorphic Rock. It will be a good amulet to pursue your world. It would be useful when you need to have a strong character.
---
Main kinds of Regional Metamorphic Rock are listed below.
- Phyllite
- Crystalline Schist
- Gneiss
- Eclogite
- Amphibolite
High-quality Eclogite can be made into accessories. If you want to wear Metamorphic Rock, an accessory of Eclogite is recommended. Eclogite contains Garnet, which is a famous gemstone. The red color of Garnet will be appealing, and it will look very beautiful.
---
There is also a type called Contact Metamorphic Rock.
This type is made as follows.
1. Magma gradually cools down in underground
2. Magma comes up closer to the surface of the earth
3. Magma heats the places around (It occurs in a shallow place, so the pressure is not so high)
4. The mineral changes by heat
5. Becomes a Metamorphic Rock
It will look different from Regional Metamorphic Rock. The energy will be different, too. Contact Metamorphic Rock is good to use when you want a change in a short term. If you want the result quickly, please use Contact Metamorphic Rock. Regional Metamorphic Rock will be useful to accomplish a long-term change. If you want to success in a project that takes more than a year, Regional Metamorphic Rock will be better to use.
---
Main kinds of Contact Metamorphic Rock are listed below.
- Hornfels
- Quartzite
- Crystalline Limestone
* Crystalline Limestone is also called Marble.
Chakra Chart of Metamorphic Rock
White Metamorphic Rock
[God] Creativity

Gray Metamorphic Rock
[Cloud] Application

7th Crown Chakra
[Soul]

6th Third Eye Chakra
[Wisdom]

5th Throat Chakra
[Voice]

4th Heart Chakra
[Love]

3rd Solar Plexus Chakra
[Light]

Brown Metamorphic Rock
[Guts] execution power

1st Root Chakra
[Life]

Black Metamorphic Rock
[Person] Will Power
Author Hayasaka Yoshino

Hayasaka Yoshino is a stone healer that usually works in Tokyo area, Japan. Yoshino is also famous as a fortune teller and seen over 10,000 people. "Fortune-telling counseling", which finds out the best gemstone for the client, received a high reputation. Representative director of LWE Co., Ltd.
Other Gemstone Recommendation