Iron Ore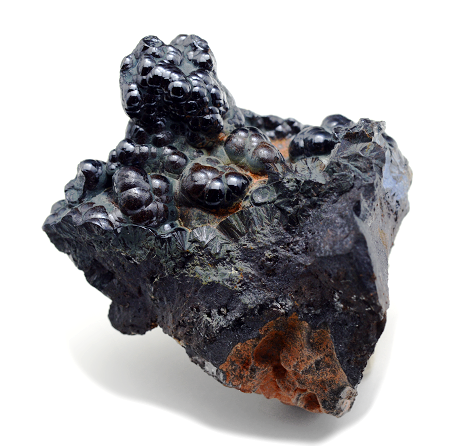 Iron Ore is a kind of ore that becomes the material of Iron. It is a mineral that contains Iron (Fe) and there are several types of it.
Main kinds of Iron Ore are listed below.
1. Hematite
2. Magnetite
3. Goethite
4. Lepidocrocite
5. Limonite
6. Siderite
7. Iron Sand
* Iron Sand is an aggregate of weathered Magnetite.
---
The most famous kind of Iron Ore is Hematite. It is popular as a gemstone that can give courage to its owner. Hematite would give you mental strength and self-confidence. It can also give you the power to win an important situation. Many shops have it, and you can buy it in a reasonable price. It is a very good Iron Ore to start with. You may buy bracelets, necklaces, earrings, ores, or ornaments.
---
The second popular Iron Ore is Magnetite. It is widely known as a gemstone that has magnetism. From ancient times, it has been valued as an amulet that can bring in happiness. Just like magnets, it can draw in positive energy. Lodestone, which also has strong magnetic force, is a good one, too. Lodestone is formed when Magnetite is struck by a thunderbolt. Iron Sand is an aggregate of small grains of Magnetite. Therefore, the power of Magnetite and Iron Sand is the same. Iron Sand is also used as a material of Japanese swords.
---
Goethite or Lepidocrocite is sometimes included in Quartz. Goethite in Quartz and Lepidocrocite in Quartz are popular as gemstone accessories. They are both popular as an amulet with great power. The ones with beautiful red color are especially expensive. High-quality ones are sold in the names such as Fire Quartz or Strawberry Quartz. When it is difficult to say whether it is Goethite or Lepidocrocite, it will be showed as Limonite.
---
Siderite is Iron Ore with greenish color. It is the least known in Iron Ore. Collectors who like ores that contain Iron prefer it. Siderite has beautiful color, so it is popular as a mineral specimen.
Chakra Chart of Iron Ore
9th Heaven Chakra
[God]

8th Air Chakra
[Cloud]

7th Crown Chakra
[Soul]

6th Third Eye Chakra
[Wisdom]

5th Throat Chakra
[Voice]

4th Heart Chakra
[Love]

3rd Solar Plexus Chakra
[Light]

2nd Sacral Chakra
[Guts]

1st Root Chakra
[Life]

Iron Ore
[Person] Will Power
Author Hayasaka Yoshino

Hayasaka Yoshino is a stone healer that usually works in Tokyo area, Japan. Yoshino is also famous as a fortune teller and seen over 10,000 people. "Fortune-telling counseling", which finds out the best gemstone for the client, received a high reputation. Representative director of LWE Co., Ltd.
Other Gemstone Recommendation