Rhodium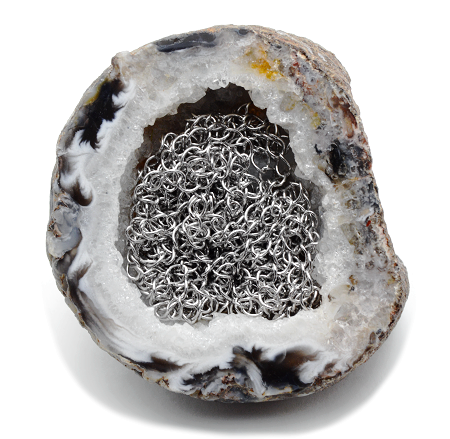 Rhodium is a kind of metal that is included in Native Platinum. There are many accessories and amulets that are plated with Rhodium. It is known as a metal with great corrosion resistance. A metal that is plated with Rhodium will maintain a beautiful shine. From this property, it became an amulet to ward off evil spirits. It will strongly block negative energy from outside.
---
Rhodium has meaning and properties of purifying evil spirits that exists around you. It is an amulet that can clean your negative feelings or thinking. It will help you to stay calm. In fact, Rhodium can detoxify carbon monoxide or nitrogen oxide. It is known as a metal that can clean automobile exhaust gas.
---
Rhodium has meaning and properties of making its owner more charming. It is an amulet that can help you stay young longer. It is also known as an amulet that can keep your mind beautiful. Rhodium is also known for its property of high light reflectivity. You can enjoy its beautiful shine a lot.
---
Rhodium is one of the chemical elements. The chemical symbol is Rh. Its name comes from a Greek word Rodeos, which means "rose color." A British scientist found Rhodium (Rh) and Palladium (Pb) from Platinum ore. The atomic number is 45.
---
Rhodium is often used for plating accessories. Rhodium is plated on metals such as Silver 925 or White Gold. Many of you might already have received the benefits of Rhodium without noticing it. Please check your accessories whether Rhodium is used or not. Since it is corrosion-resistant, it is also used to prevent metal allergies.
---
Rhodium can't be produced in a simple substance. If you want it in a natural form, please get Native Platinum that contains Rhodium. You can receive enough power of Rhodium from Native Platinum. If you can't find Native Platinum, please look for a product that is plated with Rhodium.
---
Rhodium is one of the minor metals. It is more expensive than other metals. If you want to get products with Rhodium, you will need a bigger budget. Mostly, they are Rhodium plated and you may buy necklaces, earrings, bracelets, or rings. They are sold in jewelry shops.
Chakra Chart of Rhodium
9th Heaven Chakra
[God]

Rhodium
[Cloud] Application

7th Crown Chakra
[Soul]

6th Third Eye Chakra
[Wisdom]

5th Throat Chakra
[Voice]

4th Heart Chakra
[Love]

3rd Solar Plexus Chakra
[Light]

2nd Sacral Chakra
[Guts]

1st Root Chakra
[Life]

0th Earth Chakra
[Person]
Author Hayasaka Yoshino

Hayasaka Yoshino is a stone healer that usually works in Tokyo area, Japan. Yoshino is also famous as a fortune teller and seen over 10,000 people. "Fortune-telling counseling", which finds out the best gemstone for the client, received a high reputation. Representative director of LWE Co., Ltd.
Other Gemstone Recommendation