Diorite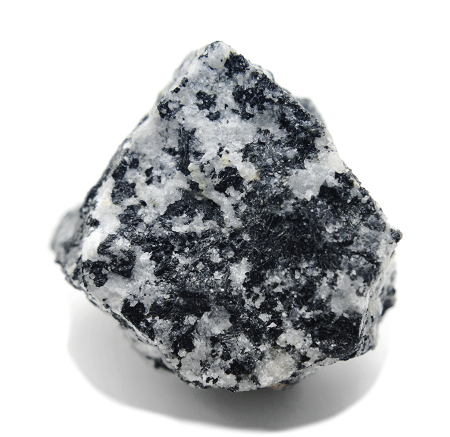 Diorite has meaning and properties of making your feelings calm. This gemstone can gently heal feelings such as anxiety, sorrow, or anger. It will be useful when you want to keep yourself calm. It is also good to use when you want to reduce careless mistakes.
---
Diorite has meaning and properties of preventing cumulation of stress. This gemstone can control you from bearing too much or having too much responsibility. It would let your stress out before all your feelings explode. It is good to use when you want to get away from heavy weariness.
---
Diorite has meaning and properties of making your will clear. This gemstone will prevent your focus to become unstable. It would help you not to fail by adjusting yourself too much to others. It can let you head straightly to the direction where you believe.
---
Diorite is formed when magma was cooled down slowly. It is a kind of rock called Plutonic Rock. Since it is cooled down slowly underground, the crystals will grow big. It has intermediate quality between Granite and Gabbro, which are also in the category of Plutonic Rock. The color of Diorite is darker than Granite, but lighter than Gabbro.
---
Main minerals contained in Diorite are as follows.
- Quartz
- Feldspar
- Biotite
- Amphibole
- Pyroxene
You can receive the energy of several minerals included all at once. It will be fun to see it with a magnifying glass.
---
Diorite is less in the market. It is used for building materials, tombstones, or sculpture materials. It is known as a stone material for professional use and it is not distributed to ordinary shops so often. You may buy it at some shops that are good at rocks. It is hardly ever made into accessories. If you want to use it as an amulet, please put it in a small pouch to carry. The price is low, so you can purchase it easily.
---
Diorite has meaning and properties of overcoming difficulties. This gemstone will prevent you from being discouraged at a situation that is mentally tough. It would lead you to achieve success behind a difficulty. It is an amulet that can let you gain happiness that will write off all the damage you got before.
---
Diorite has meaning and properties of waking up its owner's potential. This gemstone would let you understand your individuality correctly and perform your best. It will stop you working hard in your weak field. It is an amulet that can lead you to a correct place for you.
Chakra Chart of Diorite
9th Heaven Chakra
[God]

Gray Diorite
[Cloud] Application

7th Crown Chakra
[Soul]

6th Third Eye Chakra
[Wisdom]

5th Throat Chakra
[Voice]

4th Heart Chakra
[Love]

3rd Solar Plexus Chakra
[Light]

2nd Sacral Chakra
[Guts]

1st Root Chakra
[Life]

Black Diorite
[Person] Will Power
Author Hayasaka Yoshino

Hayasaka Yoshino is a stone healer that usually works in Tokyo area, Japan. Yoshino is also famous as a fortune teller and seen over 10,000 people. "Fortune-telling counseling", which finds out the best gemstone for the client, received a high reputation. Representative director of LWE Co., Ltd.
Other Gemstone Recommendation