Black Obsidian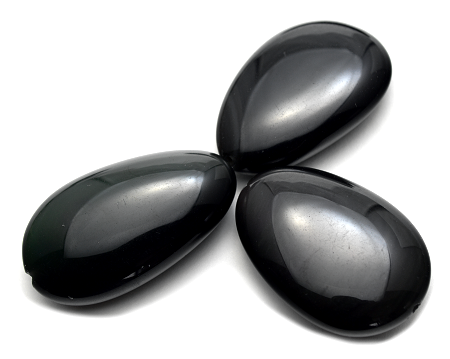 Black Obsidian has the meaning and properties of amulet against evils. It is a gemstone to strongly prevent the surrounding "evil" and "malice". It will also prevent you from succumbing to hostile forces. It is effective also when you want to regain calm daily life.
---
Black Obsidian has the meaning and properties to heal wounds of the heart. It is a gemstone to make you overcome past grief. It makes you finish by being kept tied to the dark past. It will also give "energy" and "courage" to proceed to the future.
---
Black Obsidian has the meaning and properties to make it overcome adversity. It is a gemstone which changes "despair" to "hope". It will give you the opportunity needed to break through the problem. It leads to the future waiting for good luck correctly.
---
Obsidian basically has a black color. The type of "red + black" is called "Mahogany Obsidian". The type of "white + black" is called "Snowflake Obsidian". Both patterns are fantastic and very beautiful. Obsidian which is black in Japan is called "Crow stone" or "Lacquer stone".
---
There exists Obsidian which the inside shines. The type of light varies depending on the place of production etc. You can see light such as "gold color", "silver color", "green", "pink color" or "rainbow color". The Obsidian's appearance is completely black, but it will shine very beautifully.
---
Black Obsidian is a natural glass. It is born by volcanic magma cooling rapidly. It is also called "Glass Lava". If you polish the surface cleanly, it becomes a beautiful mirror.
---
The distribution volume of Black Obsidian is large. Since it is popular, it is sold at most gemstone shops. There is no difficulty to find it. Black Obsidian is processed into an accessory for amulets. "Bracelet", "necklace", "pierces", etc. are available. As the output is large, the price is cheap.
---
Black Obsidian has the meaning and properties to enhance "insight" and "intuition". It is a gemstone to quickly see the essential part of things. It will prevent you being deceived by superficial lies. It is also recommended when you want to know the true thoughts of people.
---
Black Obsidian has the meaning and properties to strengthen will. It will nurture a strong mind that cannot be discouraged by people's opinions. It will let you progress to the way you believe without hesitating. It will also help overcome indecision.
Chakra Chart of Black Obsidian
9th Heaven Chakra
[God]

8th Air Chakra
[Cloud]

7th Crown Chakra
[Soul]

6th Third Eye Chakra
[Wisdom]

5th Throat Chakra
[Voice]

4th Heart Chakra
[Love]

3rd Solar Plexus Chakra
[Light]

2nd Sacral Chakra
[Guts]

1st Root Chakra
[Life]

Black Obsidian
[Person] Will Power
Author Hayasaka Yoshino

Hayasaka Yoshino is a stone healer that usually works in Tokyo area, Japan. Yoshino is also famous as a fortune teller and seen over 10,000 people. "Fortune-telling counseling", which finds out the best gemstone for the client, received a high reputation. Representative director of LWE Co., Ltd.
Other Gemstone Recommendation