Gold Ore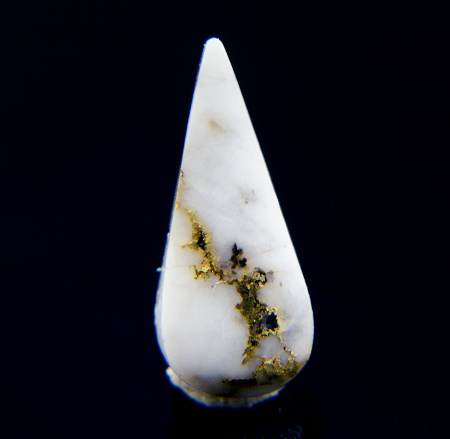 Gold Ore is a rock that "Gold (Au)" can take. Gold Ore from the river is "Native Gold" alone. Gold products cannot be made without natural Gold Ore. There are various uses from "industrial" to "jewelry use". Gold Ore is a valuable item that can be touched by "Native Gold" energy. Depending on how you use it, it may also be a talisman.
---
"Gold (Au)" contained in Gold Ore is a metal with excellent corrosion resistance. Even if you touch water or air, it is not discolored. From this characteristic, Gold Ore is regarded as a symbol of 'youthfulness'. It is popular as an amulet that prevents mental and physical aging. It will be useful for maintaining "charm" and "popularity". It also has the power to prevent dyeing into "evil" or "malice."
---
Gold Ore is an amulet that enhances the owner's good luck. The internal "Gold (Au)" symbolizes "wealth" and "power" from ancient times. It supports to attract and win opportunities for success. It is useful as "magnet attracting fortunes". "Gold (Au)" contained in Gold Ore "1t (1000kgs)" is about "10gs (0.01kg)". People who possess a lot of valuable "Gold (Au)" can be called rich without exception.
---
Dazzling Gold Ore is a symbol of "sunlight". Bright light energy will be condensed. It is useful when you want to make your feelings positive. It will give you a chance to change "despair" to "hope". It is also recommended when you want "action power" or "passion".
---
Gold Ore that looks beautiful becomes a mineral specimen. It is more valuable as it contains more Gold. There is a charm that is not found in processed Gold products. Because of the characteristics of natural stone, exactly the same thing does not exist. Please search for your own Gold Ore and collect it.
---
There are "mountain production type" and "river production type" for Gold Ore. "Mountain produced type" is often set with rocks. "Mountain production type" has a higher proportion of "Silver (Ag)" than "river production type". In "river production type", "Silver (Ag)" component melts and "Gold (Au)" purity gets higher. Each atmosphere is different, so please choose one you like.
---
The distribution volume of Gold Ore is not so much. Because it is valuable resource, most of it is for industrial use. The internal "Gold (Au)" is used for "electronic parts" etc. Others "Gold (Au)" is also a material for "money", "denture" or "ornament". If you need it, please find a gemstone shop that is strong in rare stones. The type combining "Quartz" and "Gold" is processed into accessories. It is distributed under the name of"Gold In Quartz". If you want to wear it, please search "Gold In Quartz".
Chakra Chart of Gold Ore
9th Heaven Chakra
[God]

8th Air Chakra
[Cloud]

7th Crown Chakra
[Soul]

6th Third Eye Chakra
[Wisdom]

5th Throat Chakra
[Voice]

4th Heart Chakra
[Love]

Gold Ore
[Light] Productivity

2nd Sacral Chakra
[Guts]

1st Root Chakra
[Life]

0th Earth Chakra
[Person]
Author Hayasaka Yoshino

Hayasaka Yoshino is a stone healer that usually works in Tokyo area, Japan. Yoshino is also famous as a fortune teller and seen over 10,000 people. "Fortune-telling counseling", which finds out the best gemstone for the client, received a high reputation. Representative director of LWE Co., Ltd.
Other Gemstone Recommendation