Colored Gold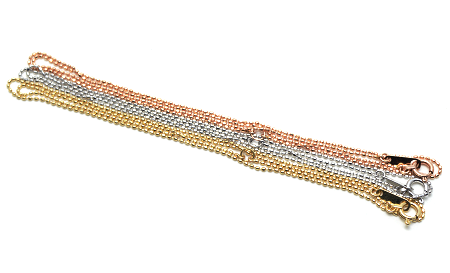 Colored Gold is made by mixing various metals with "Gold (Au)". Colored Gold is an alloy whose main ingredient is "Gold (Au)". There are various color variations such as "Yellow Gold", "Pink Gold" and "White Gold". The color changes depending on the type of metal to be mixed. The basic energy characteristic is the same as "Gold (Au)". + α energy is added depending on the color. Please find Colored Gold suitable for you and use it.
---
The main types of Colored Gold are described below. When you want to know the detailed meaning and properties, please click and see the explanation of the link destination.
Gold is treated as a special metal from ancient times. Dazzling shine is a symbol of "the sun". It is believed to give the owner "success" or "wealth". It is a lucky item every one of all ages and countries knows. Colored Gold which major ingredient is "Gold (Au)" also has amazing power as well.
---
Colored Gold plays an active role as amulet against evil. Gold is well known as a metal with excellent corrosion resistance. "Water", "air" and "sweat" do not degrade Gold. From this characteristic, it is said to be "metal that keeps off negative energy." If you want amulets against evil, please try Colored Gold products.
---
Colored Gold has the power to enhance the charm of the owner. It is popular as an amulet that captivates someone in mind. It is also a symbol of "youth" because the color is difficult to deteriorate. It is also recommended when you want to maintain high popularity.
---
The plated type of Colored Gold also exists. Only the color on the surface changes by plating processing.Since the surface is plated, the color inside is Gold. "White Gold" is plated with white "Rhodium". "Black Gold" is plated with black "Ruthenium".
---
Ore containing Gold is necessary for the manufacture of Gold products. "Native Gold" is very valuable and cannot be taken much. If you find a place where you can collect a lot of "Native Gold", you can get rich quickly. By using precious Gold resources, Colored Gold is created.
---
Colored Gold is available at jewelry shops and so on. The difficulty level to obtain Colored Gold varies depending on colors. You will need to find multiple shops for unusual colors. Colored Gold jewelry embedded with jewels is very beautiful. "Necklace", "earrings", "bracelet" and "ring" etc. are sold. Since the main ingredient "Gold (Au)" is valuable, the price is expensive. The higher the proportion of "Gold (Au)" is, the higher the price will be.
Other Gemstone Recommendation