Striped Flint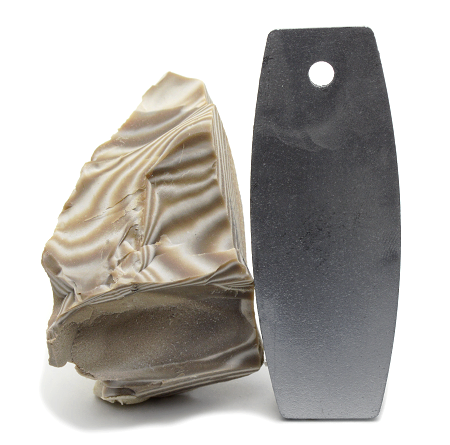 Striped Flint is a stone that can produce sparks. It is useful for igniting things. The types of Striped Flint are as follows.
-"Flint"
-"Agate"
-"Quartz"
-"Pyrite"
These types are known.
---
Striped Flint has the meaning and properties of amulet against evils. The spark that occurred was believed to dispel negative energy. Lower spirits etc will be scattered by sparks of Striped Flint. In Japan, it has been used as a wish for safety when going out. It will also be used at prayer time at temples and shrines. Sparks arising from Striped Flint are considered sacred energy.
---
Striped Flint has the meaning and properties to restore the owner's energy. It is a gemstone with powerful "energy of fire". It will be useful when you want to regain your original energy. It also gives strong "passion" and "motivation".
---
Striped Flint uses "metal" and "natural stone" to collide with each other. To generate sparks, a hard and dense natural stone is required. A natural stone will be chosen to be able to cut metal. The Quartz-based gemstone is the most adequate for Striped Flint because it is hard enough and its crystal is dense.
---
Sparks will not occur even if Striped Flints collide with each other. The identity of the spark is an iron piece that became hot. Therefore, it is always used as a set of "metal" and "natural stone". If you collide the two vigorously, a spark will occur. It is interesting to see how "kinetic energy" turns into "thermal energy". In order to use the energy of friction, it needs a bit of tricks of how to hit.
---
Striped Flint is used by holding in non-dominant hand. Please use metal for dominant hand. Sparks are generated by colliding "the sharp corner part of Striped Flint" with "the end part of metal". It is a point to make a right angle collision. It would be easier for people to put their strengths by bumping the metal from the front to the outside. Please be careful because when you don't get used, you can easily hit your hand. If you practice a few times, you can easily generate a spark.
---
Striped Flint has the meaning and properties to increase the inspiration ability. A spark of a Striped Flint is a symbol of "flash." It will give you a chance to flash the best idea. It is also recommended when you want to break the stagnant situation.
---
Striped Flint has the meaning and properties of blooming potential abilities. It is a gemstone to strongly awaken the dormant ability. It gives strength to survive in a human society. It is an amulet used when "victory" and "success" are necessary.
Other Gemstone Recommendation