Tiger Eye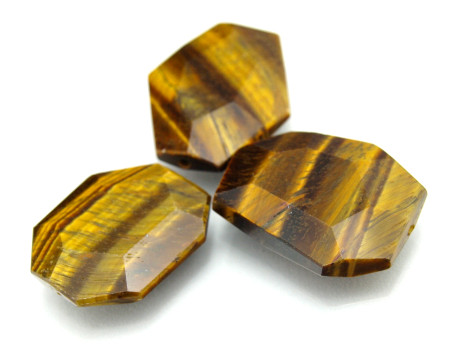 Tiger Eye is a gemstone with the meaning and properties of vitalizing your inner body energy. As its name says, this gemstone is a symbol of a tiger, and it has very strong power inside. It is a good amulet when you want to become more active. Tiger Eye is also useful when you just want to be more energetic.
---
Tiger Eye has the meaning and properties of getting back wild instincts. Just like a tiger living the wild, this gemstone could sharpen your senses. If you want to win and survive the battle, Tiger Eye is the best gemstone. It would bring out your perseverance, concentration, mental power, insight, and decision-making skills.
---
Tiger Eye has the meaning and properties of repelling evilness from outside. Since ancient times, it has been valued as a powerful talisman. It was made into decorations to ward off evil spirits. If you are in a stressful environment, please try the power of Tiger Eye. It would give you the courage to confront the negative energy at the same time.
---
People believed that Tiger Eye has the power to see through the essence of things. It is a gemstone that symbolizes a holy eye. It would help you see through the truth behind the surface. Tiger Eye is useful in various situations, such as when you want to know more about the person you love or want to have success in marketing at work. It would not miss the chance of success.
---
Tiger Eye has many kinds of colors. The yellow Tiger Eye is the most famous, and blue, red, and mixed colors are also popular. It is a gemstone that is easy to dye. Tiger Eye with purple, green, or pink color is mostly dyed. However, dyed Tiger Eye looks beautiful, and it has a certain demand in the market.
---
Tiger Eye has a mysterious and attractive pattern on the surface. When it is ground into a round shape, it looks like a tiger's eye. Since it is a natural gemstone, each one has a different pattern, so it would be your lifelong item if you find your favorite. You would never find another Tiger Eye with exactly the same pattern. If you find Tiger Eye that catches your eyes intuitively, it would be better to buy it.
---
Tiger Eye has the meaning and properties of bringing in a new chance. It is popular as a gemstone that makes a breakthrough in a stagnant period. If you want to make a flow of success, Tiger Eye is the perfect one. Tiger Eye has the power to catch the chance, not only bringing it in. Tigers are the experts of hunting, so Tiger Eye would not miss the prey (chance) and catch it.
Author Hayasaka Yoshino

Hayasaka Yoshino is a stone healer that usually works in Tokyo area, Japan. Yoshino is also famous as a fortune teller and seen over 10,000 people. "Fortune-telling counseling", which finds out the best gemstone for the client, received a high reputation. Representative director of LWE Co., Ltd.
Other Gemstone Recommendation