Phantom Crystal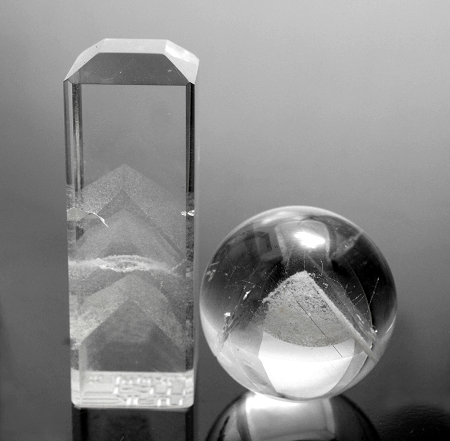 Phantom Crystal has the meaning and properties of overcoming problems. This gemstone gives you hints and energy to solve problems. It is an amulet that leads you to the best way. It would help you when you want to get out of a stagnant period.
---
Phantom Crystal has the meaning and properties of stimulating the growth of its owner. This gemstone will help you absorb the knowledge and information needed for your growth. It would especially help you improve your strong points. Your special skills will become key for big success.
---
Phantom Crystal has the meaning and properties of making the purpose of your life clear. This gemstone will let you make progress straightly to your goals or dreams. By making a clear goal, you can also concentrate on things. We can say that it is an amulet to make your life simpler. It is good to use when you want a strong will or ability to continue.
---
Phantom Crystal has a special pattern inside. Triangular and line patterns are very beautiful. It has a wonderful and mystic pattern, and many people collect it. This pattern was made as Quartz grew. It is a mark of long-term growth. That is why Phantom Crystal has the power of growth and breakthrough.
---
Phantom Crystal is less in the market. It is a special kind of Quartz, so please check several specialty shops if you need one. Since the amount in the market is small, it will have a higher price than ordinary Quartz. Although it is expensive, it has a high demand because of its special power. Bracelets and ores are popular, and many people love using them.
---
There are several kinds of Phantom Crystal. The most common one has a white pattern, and it is called White Phantom Crystal. Other than that, there are Green Phantom Crystal, Red Phantom Crystal, and Phantom Amethyst. The power slightly differs depending on the color and components. If you are interested, please look up by their names. In this article, it writes about the power that is common for all types of Phantom Crystal.
---
Phantom Crystal has the meaning and properties of healing its owner's mind. It is popular as a gemstone that can get rid of dirt in people's minds. Inside it, there is the energy of the earth that was absorbed in a tremendous amount of time. It would purify negative energy well.
---
Phantom Crystal has the meaning and properties of grabbing a good chance without missing it. This gemstone would change your life in a better direction. It is useful when you want the power to reorganize things. It would give you a chance to make a good energy flow.
Author Hayasaka Yoshino

Hayasaka Yoshino is a stone healer that usually works in Tokyo area, Japan. Yoshino is also famous as a fortune teller and seen over 10,000 people. "Fortune-telling counseling", which finds out the best gemstone for the client, received a high reputation. Representative director of LWE Co., Ltd.
Other Gemstone Recommendation