Heliotrope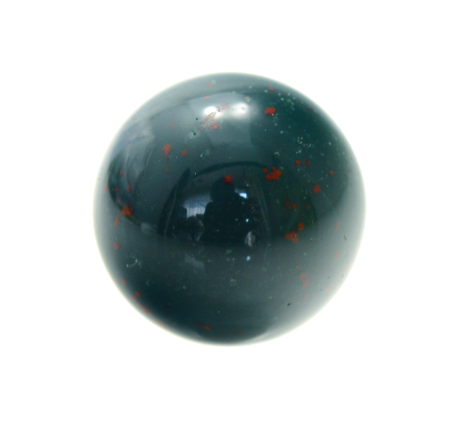 Heliotrope has the meaning and properties of improving the luck flow. This gemstone would protect you from negative energy and make you more likely to receive good luck. It is useful when you want to stop negative chain reactions. It would give you the energy to get out from a stagnant period.
---
Heliotrope has the meaning and properties of improving its owner's vitality. The red spots on the surface symbolize the blood and considered as the origin of life energy. From ancient times, it has been popular as a gemstone that enhances life energy. It is good to use when you want energy, motivation, or stamina.
---
Heliotrope has the meaning and properties of correcting the direction of your life. This gemstone can lead you in the right way. Please use it as an amulet when you need to make an important decision. It would get rid of confusion and hesitation, and let you see things in a calm mind.
---
Heliotrope is a gemstone that is also called Bloodstone. It is more likely to be called Bloodstone, so please check for information in this name, too. There is also a flower called Heliotrope, and the information of a gemstone is mixed up with it. If you can't get enough information, please look up Bloodstone. The amount of Heliotrope in the market is moderate. If you look at some gemstone shops, you can possibly find one.
---
Heliotrope is a gemstone that has red spots on a green surface. The price will be higher as the color balance looks better and beautiful. Because it is a natural gemstone, none of the Heliotrope has the same pattern. If you can find your favorite one, it will be your lifelong amulet. The red spots are also considered as the blood of Jesus Christ, and Heliotrope is very popular in Western countries. Many people use it as a holy amulet.
---
Heliotrope has the meaning and properties of freeing the suppression of feelings. This gemstone can let go of stress from endurance. When you become free from unnecessary stress, you can perform your innate power. More people make success on things that they like to do than people who success based on endurance. Excessive suppression or endurance is not good for you. This gemstone would release your emotional energy and lead you to success and prosperity. It is also useful when you want the courage to take a step forward.
---
Heliotrope has the meaning and properties of catching changes. This gemstone is effective for improving observation ability, and it would support you to grab a chance of success. It is famous as an amulet to check evil spirits and maliciousness. It will be useful to determine whether a place or person is safe or not.
Author Hayasaka Yoshino

Hayasaka Yoshino is a stone healer that usually works in Tokyo area, Japan. Yoshino is also famous as a fortune teller and seen over 10,000 people. "Fortune-telling counseling", which finds out the best gemstone for the client, received a high reputation. Representative director of LWE Co., Ltd.
Other Gemstone Recommendation