Green Amethyst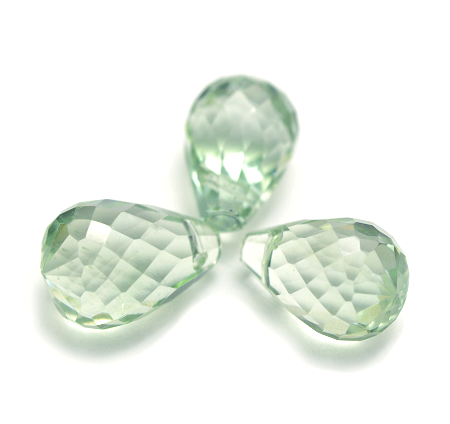 Green Amethyst has the meaning and properties of enhancing people's intuition. This gemstone is especially useful when you want to sense people's feelings. You can have good human relationships by understanding invisible emotion energy. Please try using the power of Green Amethyst if you have many chances to get involved with other people in your daily life.
---
Green Amethyst has the meaning and properties of filling love energy to your mind. Please use it when you are mentally tired or feeling like lacking energy. The warm energy of it can be used to draw in good relationships. Your circumstance would be in a state that could naturally make a good match. It is also useful when you want to find your lifelong partner.
---
Green Amethyst is a gemstone that can adjust your energy balance. It is believed to have the power to balance the power of offense and defense in a good way. It would heal you when you are straining your nerves and it would give you energy when you are being down. Green Amethyst is useful when you want to keep your best condition. Moreover, it could be used when you want to have a good balance of your work and private time, or when you want to fill the gap between reality and imaginary.
---
Green Amethyst has another name called Prasiolite. They both say about the same gemstone, and the meanings and properties are totally the same. Please look for it by the name you like. Green Amethyst is made by heating Purple Amethyst. Some people could have thought, "Why is it green even it is Amethyst?" but it is originally Purple Amethyst. Green Amethyst inherits part of the meanings and properties of regular Amethyst. It is good for people who want to try using the power of a special kind of Amethyst.
---
Green Amethyst is a rare gemstone in the market. Not all of the Amethyst will become Green Amethyst. Therefore, it is rare and more expensive than regular Amethyst. It is mostly not available in common gemstone shops, so please visit a long-established shop with deep specialization. There are items such as bracelets, necklaces, and earrings.
---
Green Amethyst has the meaning and properties of making its owner's life rich. It became the symbol of miracle and luckiness because it takes time and effort to make Green Amethyst. It is believed to bring a miracle in your life and lead you to happiness. You can have support to enlarge a little possibility. It is also known as a gemstone to change impossible into possible.
Author Hayasaka Yoshino

Hayasaka Yoshino is a stone healer that usually works in Tokyo area, Japan. Yoshino is also famous as a fortune teller and seen over 10,000 people. "Fortune-telling counseling", which finds out the best gemstone for the client, received a high reputation. Representative director of LWE Co., Ltd.
Other Gemstone Recommendation