Gold Rutilated Quartz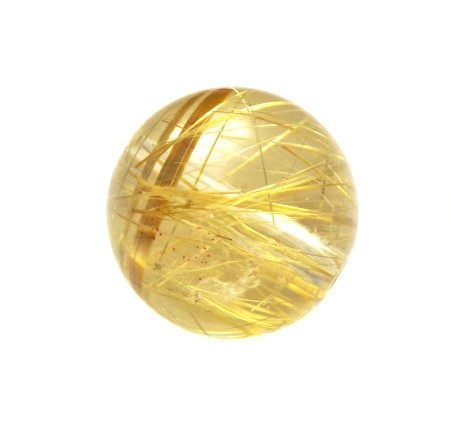 Gold Rutilated Quartz has the meaning and properties to promote the independence of the owner. A straightened gold needle is just a symbol of independence. It will be an amulet to move forward toward the direction you desire without hesitation. Please use it also when you want confidence.
---
Gold Rutilated Quartz has the meaning and properties to brighten the mind. The golden glow inside will eliminate all kinds of negative energy. Please use it as a charm to wipe away loneliness and anxiety. It is a gemstone that finds new possibilities for you and makes you move forward.
---
Gold Rutilated Quartz has the meaning and properties that enhances the creativity of the owner. It is a gemstone to embody the image you visualized. The more concrete the image is, the more powerful energy it will give. If you are involved in creating things, please try Gold Rutilated Quartz once.
---
Gold Rutilated Quartz is an amulet to break away from difficult situations. You can get the power to get out of stagnation period and an unlucky year quickly. Please use it when you think, "I shouldn't be weak". It is a gemstone to take back the true self at earliest.
---
The names of Rutile Quartz change depending on the colors of the needles. If the needle inside is gold, the name is "Gold Rutilated Quartz". As the type of gold needle is the most famous, it is often described simply as "Rutile Quartz". Whether it is called Gold Rutilated Quartz or not is a matter of preference. In order to distinguish it from Rutile Quartz of other colors, some stores describe them as "Gold Rutilated Quartz". As there are Rutile Quartz of "red needle", "blue needle", "green needle", "silver needle", "brown needle" and "black needle", please choose and use properly depending on the application.
---
Gold Rutilated Quartz has been loved by many people. If you are checking out gemstones, you will definitely meet this gemstone. The higher the transparency is and the more gold needles it contains, the higher the price is. Low quality type is available at inexpensive price, but high quality type is as expensive as gems. High quality Gold Rutilated Quartz is expensive but in high demand and will rise in value in the future. If you are looking for beautiful Gold Rutilated Quartz, it is better to get it early.
---
Gold Rutilated Quartz has the meaning and properties to make the owner's dream come true. It is a gemstone to blow off negative images such as "unable" and "cannot". Converting everything into successful images will attract a great fortune. This characteristic has a positive impact on all of "love, marriage, work and health".
Author Hayasaka Yoshino

Hayasaka Yoshino is a stone healer that usually works in Tokyo area, Japan. Yoshino is also famous as a fortune teller and seen over 10,000 people. "Fortune-telling counseling", which finds out the best gemstone for the client, received a high reputation. Representative director of LWE Co., Ltd.
Other Gemstone Recommendation