Red Sunstone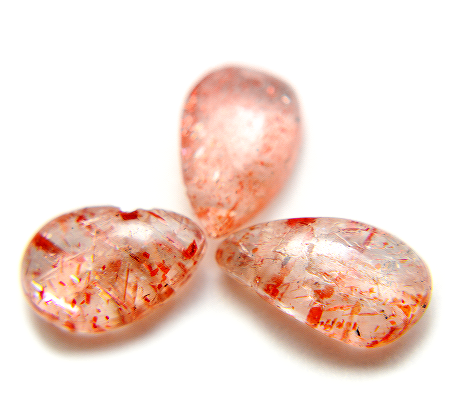 Red Sunstone is a gemstone that has the meaning and properties of enriching life. It has been popular as a gemstone that symbolizes the "sun" since ancient times. It shines sparkling when it is exposed to light. It is an amulet that positive energy is condensed. It is also used when you are necessary to get out of trouble.
---
Red Sunstone has the meaning and properties to overcome obstacles. It is a gemstone to help you to carry out the purpose of life to the end. It is also used to overcome anxiety and fear when problems occur. Strong mental power and courage will be obtained at the same time.
---
Red Sunstone has the meaning and properties of enhancing the energy of the owner's body. It is a gemstone to store power so as not to lose daily stress. You will get the driving force to move to the future. It is also effective when you want to move forward to the purpose.
---
Red Sunstone is said to increase its brightness when the condition of the owner is good. If you feel that you are brighter than usual, please be active. On the contrary, when you feel that "the brightness is cloudy", please rest for a while. This is a handy gemstone that can be used as a barometer of fortune.
---
Sunstone contains "orange" to "red" crystals inside. This glittering part is iron (Lepidocrocite) or natural copper. The high quality type is more beautiful and powerful. The distribution volume is normal, and you can find it by searching a few specialty stores.
---
Red Sunstone is often processed and used as a decorative item. It finishes accessories like natural stones because the patterns differ from stone to stone. It will become the only amulet for you in the world. Necklace and bracelet types are popular. If you find an accessory you feel attractive, please get it before it's gone.
---
Red Sunstone has the meaning and properties of regaining an honest feeling. It is a gemstone that lights the deep inside of the mind and finds out the original self. It moves the self that is supposed to originally be from the shade to under the sun. It will relieve stress from oppression.
---
Red Sunstone also has the meaning and properties of regaining the joy of life. The "sun energy" that lives inside will blow away the negative energy. It converts "I can't" or "It's too tough" into "Can" or "Fun". Positive energy is essential to a satisfying life. Big happiness will be attracted by using Red Sunstone. It is also used for the purpose of simply raising your fortune.
Author Hayasaka Yoshino

Hayasaka Yoshino is a stone healer that usually works in Tokyo area, Japan. Yoshino is also famous as a fortune teller and seen over 10,000 people. "Fortune-telling counseling", which finds out the best gemstone for the client, received a high reputation. Representative director of LWE Co., Ltd.
Other Gemstone Recommendation