Golden Citrine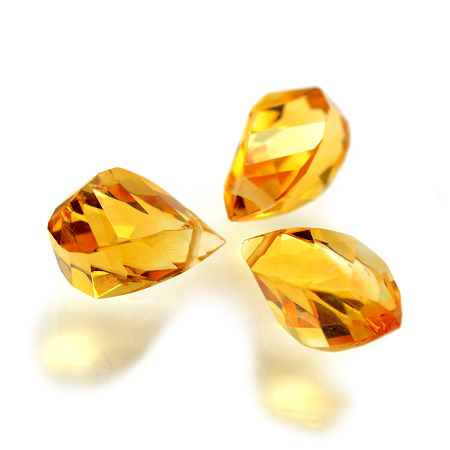 Golden Citrine has the meaning and properties of enriching the owner's life. Clear yellow color is a symbol of "light" and is famous as an amulet to attract happiness. The energy of light will give you the necessary chance for success. It is also used when you want to make your feelings positive.
---
Golden Citrine is a gemstone that has meaning and properties to overcome difficulties. It is popular as a "talisman to light up the darkness of life". It is a gemstone also known as a symbol of "hope". If you fall by the wayside, we recommend you to try the power of Golden Citrine. A bright hope supports the owner to the end.
---
Golden Citrine has the meaning and properties of improving the owner's confidence. Some degree of confidence is essential to the success of things. By improving confidence, you will gain the "progressive power" and "production power" that are essential to the development of things. Using this gemstone makes it easy for you to attract a rich future. It is also recommended when you want to plant a lot of seeds for success.
---
Citrine which combines beautiful coloration and high transparency is called Golden Citrine. The higher the quality is, the higher the price will be.
---
Citrine is a well-known gemstone. It is sold at the gemstone shops with high probability. You will be able to find it easily. However, the quality and design have variability. Since there is a large distribution volume, the quality and design are diverse. When seeking the ideal Golden Citrine, please visit several stores.
---
Golden Citrine has the meaning and properties of enhancing the vitality of the owner. It is a typical gemstone to use when you want good energy. Since Golden Citrine has all "positive energy", "high synchronization rate" and "beautiful look", it can be recommended to many people. It is also distinctive that it is widely loved by gemstone users from beginners to advanced users.
---
Golden Citrine has the meaning and properties of creating innovative ideas. It is a gemstone for pioneering new world and leading the owner to success. It lets the owner throw away old values and common senses once. Aiming for the traditional "low demand and high supply location" is not helpful to acquire a success. Golden Citrine is a gemstone that finds "places of high demand and low supply". Revolutionary ideas will lead the owner to great success.
Author Hayasaka Yoshino

Hayasaka Yoshino is a stone healer that usually works in Tokyo area, Japan. Yoshino is also famous as a fortune teller and seen over 10,000 people. "Fortune-telling counseling", which finds out the best gemstone for the client, received a high reputation. Representative director of LWE Co., Ltd.
Other Gemstone Recommendation