Blue Chrysocolla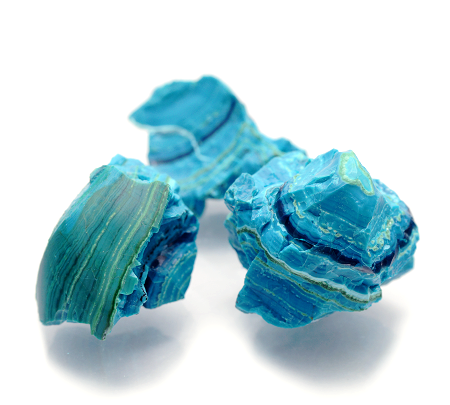 Blue Chrysocolla has the meaning and properties to facilitate human relations. It is a gemstone loved as "the amulet of reconciliation" from ancient times. It is popular as a talisman not to increase the enemies. Blue Chrysocolla is also used when you want to succeed in negotiations. You will be wisely able to see the other's requirements and lead to reconciliation and compromise. It can be used for both negotiations of love and work.
---
Blue Chrysocolla has the meaning and properties to calm the mind of the owner. It is a gemstone for saving offensive feelings. Please use it when you want to overcome the ups and downs of emotions. Calmness and coolness will attract peaceful days.
---
Blue Chrysocolla is a gemstone that has the meaning and properties of amulet against evil. It has been believed since ancient times that it is a "stone that purifies evil energy". It cleanses negative energy regardless of the owner or others. It is a gemstone which protects you from painful environment and situation.
---
Chrysocolla coexists with "Quartz", "Azurite", "Malachite" and "Feldspar." Since it coexists with various gemstones, the appearance is not constant. The mixed type of blue and green is most famous. It looks like a natural stone, so you won't get bored looking at it.
---
The distribution volume of Blue Chrysocolla is normal. Please note that some gemstone shops don't handle this gemstone. If you search a few specialty stores, you will find them without problems. The charm of Blue Chrysocolla is a unique pattern. It is processed into accessories, etc. and worn. Each stone has a different pattern, so it will become a unique item. The prices of Blue Chrysocolla vary a lot. Depending on the beauty of the appearance, there are various types from inexpensive to expensive.
---
Blue Chrysocolla has the meaning and properties of sharpening thinking. It is a useful gemstone when you want to flash a good idea. It is also recommended if you want to solve the problem quickly. Blue Chrysocolla is a gemstone to clarify the future direction. A blueprint for grasping happiness will be drawn in your head. It reduces waver of life and makes it easy to get much happiness.
---
Blue Chrysocolla has the meaning and properties of enhancing expression. It is a gemstone that makes it possible for people to understand difficult images and emotions. It has been loved by people who need expressions such as "novelist", "photographer", "actor", "musician", "architect" and "designer". In the case that the quality and quantity of expression is directly linked to life and income, Blue Chrysocolla is recommended.
Author Hayasaka Yoshino

Hayasaka Yoshino is a stone healer that usually works in Tokyo area, Japan. Yoshino is also famous as a fortune teller and seen over 10,000 people. "Fortune-telling counseling", which finds out the best gemstone for the client, received a high reputation. Representative director of LWE Co., Ltd.
Other Gemstone Recommendation