Indigo Kyanite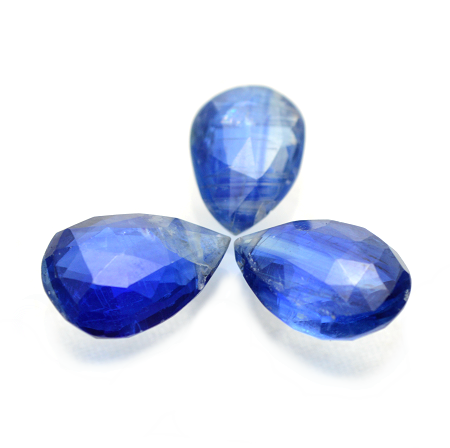 Indigo Kyanite has the meaning and properties of enhancing intuition. It is a gemstone to sensitively sense invisible energy. You will capture the fine opportunities that you tend to overlook, and it will lead you to success. It is also ideal when you want to detect and avoid negative energy.
---
Indigo Kyanite has the meaning and properties of adjusting the energy balance of the owner. It is popular as a gemstone to compensate for the energy shortage. On the contrary, when you are likely to be out of control with excess energy, it will calm you down. It will be useful in the scene where you want to keep the best condition.
---
Indigo Kyanite is a gemstone that has the meaning and properties of correcting the future directionality. It is called a "jewel to receive messages from heaven" and supports the owner to move in the right way. It will tell you the "meaning of birth" and the "mission given by heaven". If you get lost in your life, please try the power of Indigo Kyanite. It works well with meditation and makes it easy to receive various messages. If you do not have knowledge of meditation, you can receive various messages just by putting the stone on the bedside.
---
Indigo Kyanite is processed into bracelets and necklaces and worn. It is more difficult to process than other gemstones, and there is not much distribution. The popularity is high, so you can find it by searching a few shops.
---
Kyanite is a gemstone with "blue", "indigo blue", "light blue" and "green". Blue color Kyanite is common, and not so many green color types are distributed. The price fluctuates depending on the "beauty of the color", the "degree of the transparency", and the "number of scratches". The high quality Kyanite is very beautiful and will captivate those who have seen it. Kyanite shows linear shine when exposed to light. This mysterious shine is another attraction of Kyanite.
---
Indigo Kyanite has the meaning and properties of accelerating the recovery power. It is also known as a gemstone with a strong healing ability. It will be able to heal and repair the damaged area. It is an amulet that gives you the strength you will never lose. It is also used when you need the ability to overcome difficulties and challenges.
---
Indigo Kyanite is a gemstone that has the meaning and properties of raising imagination power. It is also called a "gem to embody a dream." It is an amulet to make a dream come true. It links with the owner's subconsciousness, and it brings the owner closer to a dream. Imaginary utopia will increase the happiness of the owner.
Author Hayasaka Yoshino

Hayasaka Yoshino is a stone healer that usually works in Tokyo area, Japan. Yoshino is also famous as a fortune teller and seen over 10,000 people. "Fortune-telling counseling", which finds out the best gemstone for the client, received a high reputation. Representative director of LWE Co., Ltd.
Other Gemstone Recommendation