Blue Nuummite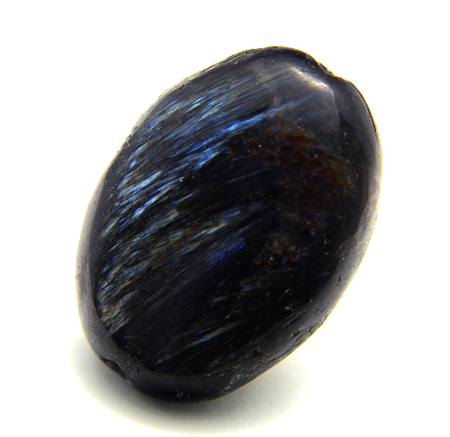 Blue Nuummite has the meaning and properties of sensing the invisible energy. It is a gemstone that opens the "third eye" on the forehead. It will make you sense sensitive energy that cannot be seen with normal eyes. It supports to grab a chance of luck without missing. Conversely, when you detect evil energy, you will be evaded it quickly. Blue Nuummite also has the power to sense the invisible emotions of people. It is a powerful gemstone that is favored by fortune tellers and therapists.
---
Blue Nuummite has the meaning and properties of relieving self-denial. The "energy of light" that lives inside the stone will dispel negative emotions. It makes it easy for you to have a sense of self-esteem that you need to feel happy. True love will be realized by loving yourself properly.
---
Blue Nuummite is a gemstone that has the meaning and properties to keep away evil. It is also known as an excellent amulet against evil. It will repair the wounded aura and keep it from getting evil energy sneaked in. It is useful as a talisman when you are weak.
---
Nuummite is a rare stone found in Greenland. Since the production area is limited, the amount of distribution is quite small. Nuummite is a mysterious natural stone that is said to have been born more than 3 billion years ago. The energy of the earth has been condensed over time. It is the gemstone that is highly regarded by professional healers and shamans. It is recommended to the advanced level gemstone lovers. You will feel a special energy that other gemstones do not have.
---
Blue Nuummite has a black color. You will see a blue glow inside. It looks sober in the distance, but it looks more beautiful as you get closer. Blue Nuummite is often processed into bracelets and worn. By wearing it close to you, you will gain more power from it. As it is a rare gemstone, the price may rise in the future. If you need it, please get it early.
---
Blue Nuummite has the meaning and properties to free the mind of the owner. It is a gemstone that releases patience and restrictions that bind the owner. It will help to break the overweight negative chain. It supports you to capture the happiness that should have been obtained. With your free mind and open energy, you will attract the good fortune you want.
Author Hayasaka Yoshino

Hayasaka Yoshino is a stone healer that usually works in Tokyo area, Japan. Yoshino is also famous as a fortune teller and seen over 10,000 people. "Fortune-telling counseling", which finds out the best gemstone for the client, received a high reputation. Representative director of LWE Co., Ltd.
Other Gemstone Recommendation