Green Prehnite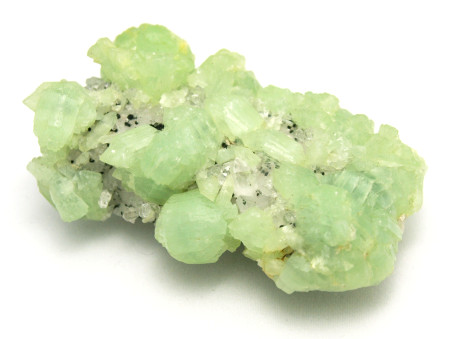 Green Prehnite has the meaning and properties of facilitating human relationships. It is popular as a gemstone holding "love energy". The heightened tension will be relieved by the energy of love. It is an amulet to avoid disadvantageous conflicts in advance. It demonstrates its power in an environment where relationships are important.
---
Green Prehnite has the meaning and properties of maintaining the strength of the heart. It is a gemstone not to lose control even in harsh conditions. It will also be useful to get through the pinch. It defends the owner not to be caught off guard while the owner is weak. It is also recommended for those who want to reduce the number of mistakes.
---
Green Prehnite has the meaning and properties of improving the accuracy of future prediction. It is a gemstone to allow the owner to analyze every situation accurately. It will support the owner to go toward the desired future. It is also effective when you have a dream you want to come true or a goal you want to achieve. By clarifying where to go in the future, it reduces anxiety and fear. Please try it when you want to relieve the pressure that is too heavy. It will move you toward the future with courage and confidence.
---
Raw stone of Prehnite has a beautiful grape shape. If you collect raw stones of natural stones, this is an item you should obtain. You can enjoy the gentle beauty with the rounded shape.
---
The volume of distribution of Green Prehnite is normal. You can find it by looking at several gemstone shops. Accessories are designed for "bracelets", "necklaces", "earrings", etc. Since the raw stones are also beautiful, please look for them together. Green Prehnite is sold at an average price. It will be easy to try this gemstone because the price range is not too expensive and not too cheap. Green Prehnite with beautiful coloring and high transparency is expensive. Please adjust your budget according to the quality you need.
---
Green Prehnite has the meaning and properties of making it easier to gain trust from the surroundings. It is a gemstone to accurately see through the other party's requirements. It will be useful to maintain a beneficial relationship. Strong relationships of trust and bonds create a lot of happiness.
---
Green Prehnite has the meaning and properties of keeping the charm of the owner. It is a gemstone for those who want to play an active part throughout life. It will reduce the anxiety and fear that grows with age. It is an amulet to keep you motivated and youthful at any age.
Author Hayasaka Yoshino

Hayasaka Yoshino is a stone healer that usually works in Tokyo area, Japan. Yoshino is also famous as a fortune teller and seen over 10,000 people. "Fortune-telling counseling", which finds out the best gemstone for the client, received a high reputation. Representative director of LWE Co., Ltd.
Other Gemstone Recommendation