Sun Stone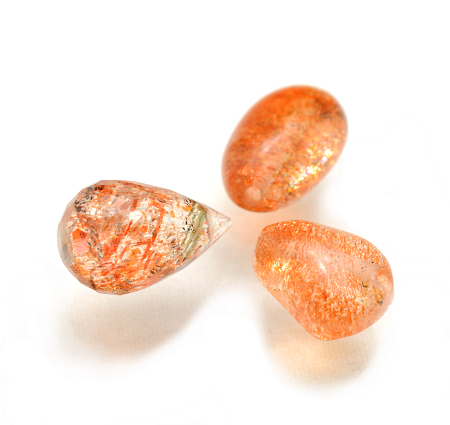 Sun Stone mainly indicates Sunstone. It contains hot and bright energy like the sun. If you use it, it will be a great amulet that would light up your future. It is also good to use when you want to supplement vitality or motivation.
---
Sun Stone is a gemstone that is also called Heliolite. "Helio" means "Sun" in Greek. From ancient times, it has been valued as a special gemstone. It is still very popular in modern times, and many people love using it.
---
Sun Stone is a gemstone with orange, reddish-brown, or red color. A high-quality Sun Stone made into a round shape will just look like the sun. The sun is a symbol of light, happiness, success, popularity, zealous, affirmation, and self-confidence. So, Sun Stone is an amulet that symbolizes those factors.
---
Sun Stone shines when you put light on it. You wouldn't believe that it is a natural gemstone when the highest-quality ones beautifully shine. This shine is made by Lepidocrocite. When Lepidocrocite is contained in Quartz, it is called Fire Quartz. This one is an amulet that symbolizes flame. Please be careful because Sun Stone and Fire Quartz look alike. Sun Stone is a kind of Feldspar, not Quartz.
---
Sun Stone is a gemstone that is full of dynamic energy. Moonstone is a gemstone with calm energy. Both of them are a kind of Feldspar, but their energies are totally the opposite. If you use both of them at the same time, they will become amulets that control the balance of the positive and negative.
---
Peridot is also called Sun Stone. The bright shine inside Peridot is a symbol of sparkling of the sun. This shine is called sun spangle. It was loved by ancient Egypt dynasties that worshipped the sun god.
---
* Several types of gemstones are called Sun Stone. In this article, it mainly writes about the most famous one, Sunstone. Sun Stone would vary depending on the country or area.
Author Hayasaka Yoshino

Hayasaka Yoshino is a stone healer that usually works in Tokyo area, Japan. Yoshino is also famous as a fortune teller and seen over 10,000 people. "Fortune-telling counseling", which finds out the best gemstone for the client, received a high reputation. Representative director of LWE Co., Ltd.
Other Gemstone Recommendation