Hawk's Eye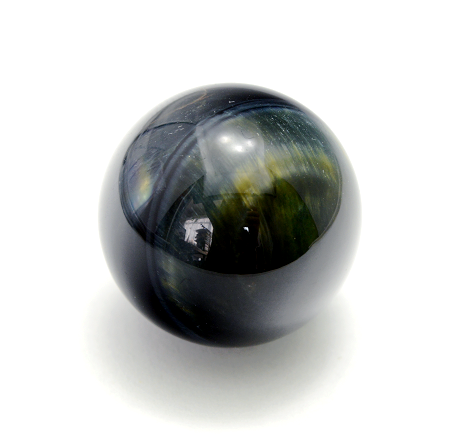 Hawk's Eye has the meaning and properties of making a flexible mind. This gemstone would let you hit upon an epochal idea. It has the power to make a revolution to things. It is also good to use when you need courage and passion to try something.
---
Hawk's Eye has the meaning and properties of improving communication skills. This gemstone would let you see through the true feelings of others. It will be useful to improve the power to control people's minds. You can gain fellows and disable enemies at the same time.
---
Hawk's Eye has the meaning and properties of improving your mental power. It is a useful gemstone to reduce mental damage. It would help you stay away from the control of negative feelings. Hawk's Eye could keep a certain brightness and positiveness inside you.
---
Hawk's Eye is made when Crocidolite goes into Quartz. We can also say this as fibrous quartz. When the ore is polished, a beautiful shine will appear. This shine looks like a glint of a hawk's eye.
---
Hawk's Eye is produced together with Tiger's Eye. When the iron in Hawk's Eye is oxidized, it changes into Tiger's Eye that has a yellow color. The yellowish-brown part of Tiger's Eye is Limonite. The one that has Hawk's Eye and Tiger's Eye mixed is called Mix Tiger's Eye. Sometimes, the color turns to green when Hawk's Eye changes to Tiger's Eye. This green colored one is called Wolf's Eye.
---
The amount of Hawk's Eye in the market is moderate. You can find it in gemstone shops that have many kinds of gemstones. It would be easier to find in shops that are good at Tiger's Eye. You can buy bracelets, necklaces, and earrings. The price is slightly higher than Tiger's Eye.
---
Hawk's Eye is a gemstone with the meaning and properties of keeping away bad luck. You can gain a sixth sense to avoid danger instinctively. You would be able to make a calm decision of right and wrong of things. Please use it before you need to make an important decision.
---
Hawk's Eye has the meaning and properties of bringing back an honest mind. This gemstone would protect you from getting tired by enduring again and again. It would let you do what you really want to do before your mind is tightly closed. You can have support to live as you are.
Author Hayasaka Yoshino

Hayasaka Yoshino is a stone healer that usually works in Tokyo area, Japan. Yoshino is also famous as a fortune teller and seen over 10,000 people. "Fortune-telling counseling", which finds out the best gemstone for the client, received a high reputation. Representative director of LWE Co., Ltd.
Other Gemstone Recommendation