Kryptonite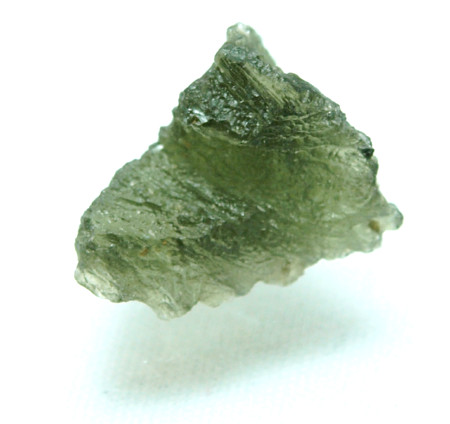 Kryptonite is an imaginary mineral that appears in the movie "Superman." It was made when Superman's homeworld, Krypton was broken into pieces. Kryptonite is a piece of Krypton planet. On the Earth, it is picked as a meteorite that came from outer space. It is not only one, and there are several pieces of Kryptonite. It was exhibited in a museum as a rare meteorite.
---
* The details are slightly different depending on the series of Superman. That is because there are many versions of the story, such as movies, comics, animations, and dramas. Also, the details can change in the future.
---
Kryptonite is formed with elements that aren't on the Earth. It is a wonderful mineral that has infinite possibilities. It appears as an important item to find out the power of Superman. This mineral was one of the greatest items to research for earthlings.
---
The model of Kryptonite is a gemstone called Moldavite. Moldavite is a natural-made glass that is made when the meteor hits the ground. It is made when the rock on the Earth broke into pieces and cooled down suddenly as those pieces scattered all over. This gemstone has the memory of strong heat and pressure when the meteor hit the ground. It is known as a special gemstone that is perfect for the model of Kryptonite.
---
If you want Kryptonite in this real world, please look for its model, Moldavite. It is a rare gemstone, but a few gemstone shops have it. The price is relatively high, so please prepare big budgets. There are some fake ones, so it would be safer to buy Moldavite with a certification. However, Moldavite with certification will be a little expensive. You can buy bracelets, necklaces, earrings, or ores of Moldavite.
---
Kryptonite is a mineral with a green color. The model, Moldavite, is also green. Some people would say Kryptonite is a meteorite that shines in blue. Maybe, we could say it as a meteorite with a bluish-green color. It has transparency and shines in a dark place.
---
Kryptonite appears as a weak point of Superman. We can describe it as a mineral with the energy that was released when the Krypton exploded.
So, we can consider the facts as follows.
- Kryptonite that forms Krypton is harmless.
- Kryptonite with the energy that destroyed Krypton is harmful.
Superman came from Krypton, so he will be hurt by this destructive energy. What a sad setting even though it is a mineral of his homeworld. Kryptonite on the Earth can make Superman's power ineffective.
---
The power of Kryptonite can be blocked with Tin, the metal of atomic number 82. We can cover Kryptonite with Tin and let it fly to outer space so that it couldn't be used in a bad way. (However, there are several pieces of Kryptonite on the Earth.) Maybe we could change Superman's suit into the tin armor, tin helmet, tin gauntlets, and tin boots to make him invincible.
Author Hayasaka Yoshino

Hayasaka Yoshino is a stone healer that usually works in Tokyo area, Japan. Yoshino is also famous as a fortune teller and seen over 10,000 people. "Fortune-telling counseling", which finds out the best gemstone for the client, received a high reputation. Representative director of LWE Co., Ltd.
Other Gemstone Recommendation