Limestone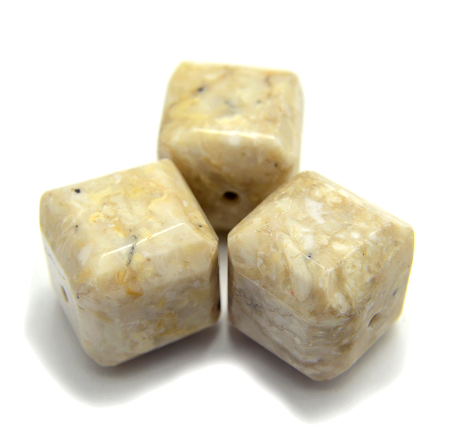 Limestone has the meaning and properties of purifying negative energy. This gemstone can clear rough feelings and thoughts. It will be useful to break off the bad energy flow. It is also good to use when you need some time to heal your exhausted mind.
---
Limestone has the meaning and properties of keeping human relationships well. This gemstone can prevent hostility and jealousy. You would be able to build an ideal relationship without playing a double game.
---
Limestone has the meaning and properties of making your feelings positive. This gemstone would reduce nonproductive and negative thinking. It could help you stop thinking of things that you can't do and try to do things you can do. It is an amulet that can gradually increase positive phenomena. Eventually, you would be able to achieve good fortune.
---
Limestone is a kind of rock made by creatures. It is formed with the dead bodies of creatures lived in coral reefs. Most of the Limestones are fossils of a coral reef. Limestone caves and stalactites are formed by Limestone. Limestone is categorized as Sedimentary Rock. It is mainly composed of minerals called Calcite and Aragonite. The main component is Calcium Carbonate.
---
When Limestone is heated by magma, it becomes Crystalline Limestone. Crystalline Limestone is categorized as Metamorphic Rock. It is called Marble as a stone material. It is easy to process, and it will shine beautifully when polished. Marble is known as a popular building material. Other than that, it is used for accessories, craft products, cement, chemicals, and fertilizers. The price is fairly reasonable.
---
Limestone has the meaning and properties of improving dexterity. This gemstone can help you gain several skills to survive. You can have the power to live in any kind of environment. It is also good for people who want to show good performance in various fields.
---
Limestone has the meaning and properties of getting back the vitality that you lost. This gemstone is filled with positive energy. It will charge you the energy that you need to stand up again. It would help you get out of a negative chain reaction that can make you fall into a slumping period.
Author Hayasaka Yoshino

Hayasaka Yoshino is a stone healer that usually works in Tokyo area, Japan. Yoshino is also famous as a fortune teller and seen over 10,000 people. "Fortune-telling counseling", which finds out the best gemstone for the client, received a high reputation. Representative director of LWE Co., Ltd.
Other Gemstone Recommendation