Golden Pearl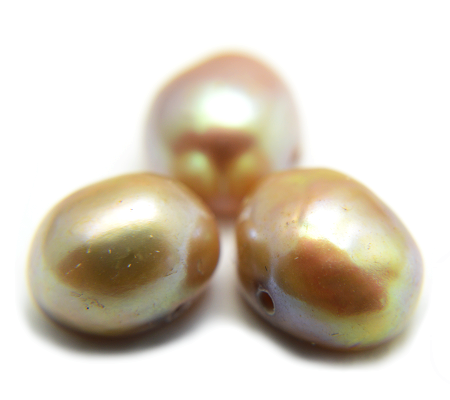 Golden Pearl has the meaning and properties of recovering its owner's vitality. This gemstone has great healing energy. It is useful when you want to get out of a weak state. You could get back your stable state.
---
Golden Pearl has the meaning and properties of improving mental power. This gemstone can protect you from the control of anxiety, nervousness, or fear. It is also useful when you want to soften the ups and downs of your feelings. It would make you mentally relaxed.
---
Golden Pearl has the meaning and properties of enhancing its owner's will power. This gemstone would let you move forward straightly to your goal. It would largely shorten the time to think and worry. It is also good to use when you want the strength to live honestly.
---
There are two types of Golden Pearl: natural colored ones and dyed ones. Their values differ greatly, so please check carefully in advance. The natural colored ones have a higher value than the dyed ones. When Yellow Pearl is polished, it shines and looks like it has a gold color. The color is opaque, and it looks mellow.
---
Golden Pearl is formed inside an alive pearl oyster. The shape could be round, semicircular, or oval. There are Natural Pearl and Farmed Pearl for Golden Pearl. Most of the Pearls in the market are Farmed Pearl. Please also check this point before you buy it.
---
Golden Pearl is not a mineral. That is because it is formed inside a shell. However, the history of Pearl is very long, and it is mostly considered as jewelry. It is sold with minerals produced under the ground in jewelry shops.
---
Golden Pearl is rare in the market. Most of the gemstone shops don't have it. If you need one, please look in specialty shops that are good at Pearl. It might be better just to order one. Necklaces, earrings, and rings are popular designs.
---
Golden Pearl has the meaning and properties of grabbing a chance of good luck. This gemstone can acutely sense the flow of good luck. You could get a chance to make a big success. You can also receive the ability to see through the right or wrong of an important choice.
---
Golden Pearl has the meaning and properties of warding off evil spirits. This gemstone can powerfully block evil spirits, maliciousness, danger, and despair. It would protect its owner from getting into difficulties. It is a good amulet when you need strong protection.
Author Hayasaka Yoshino

Hayasaka Yoshino is a stone healer that usually works in Tokyo area, Japan. Yoshino is also famous as a fortune teller and seen over 10,000 people. "Fortune-telling counseling", which finds out the best gemstone for the client, received a high reputation. Representative director of LWE Co., Ltd.
Other Gemstone Recommendation