Olivine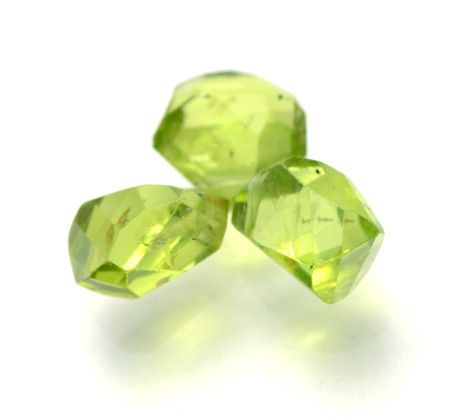 Olivine has the meaning and properties of making your thinking positive. This gemstone can improve your negative thoughts. It also has the power to clear off all the excessive thoughts. It would let you make progress without hesitation toward the flow of good luck.
---
Olivine has the meaning and properties of opening a closed mind. This gemstone would give you spiritual freedom. It would help you restart your progress that had stopped by despair or just giving up. Olivine can give your mind a ray of hope.
---
Olivine has the meaning and properties of making your relationships better. This gemstone could strengthen the trust or bonds between others. Your lover, friend, family, or colleagues, you can use it for all kinds of people. It is good to use when you want to make an even better relationship.
---
Olivine is a gemstone that is also called Peridot. Olivine is the mineral name, and Peridot is the jewelry name. The name Peridot is more widely known. If you want to know a lot of its energy properties, please lookup by the name Peridot.
---
There are a few kinds of Olivine.
- Forsterite
- Fayalite
- Tephroite
The types are the three above. You can receive the power of Olivine from any of them. Olivine for jewelry contains Iron (Fe) around 15%. This gemstone changes color by contained Iron (Fe) or Nickel (Ni).
---
Olivine that has a beautiful color is used as a material of jewelry. The most famous ones have a green color. The jewelry name is Peridot, and it is known as the birthstone of August. It has high transparency and a luxurious mood. The price can vary depending on its color, size, and scratches on the surface. A big Olivine is rare, and it will be especially expensive. You can buy necklaces, bracelets, earrings, rings, and ores. There are some rare types of Olivine, which are attached to a meteorite.
---
Olivine has the meaning and properties of stimulating the growth of abilities. This gemstone can enhance its owner's talents and strong points to the maximum. You would be able to perform 100% of your hidden ability. It could largely expand the possibility of your future.
---
Olivine has the meaning and properties of improving its owner's will power. This gemstone could help you not to give up things in the middle. You can have strong energy to make progress with courage. It would also give you the mental strength and endurance to fight until the end.
Author Hayasaka Yoshino

Hayasaka Yoshino is a stone healer that usually works in Tokyo area, Japan. Yoshino is also famous as a fortune teller and seen over 10,000 people. "Fortune-telling counseling", which finds out the best gemstone for the client, received a high reputation. Representative director of LWE Co., Ltd.
Other Gemstone Recommendation