Mourning Jewellery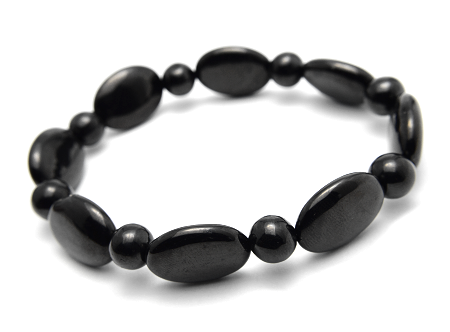 Mourning Jewellery is made with a gemstone called "Jet". It is famous as jewelry to use during mourning. In the 18th and 19th centuries, it spread as jewelry for mourning. It is known as "the jewel that Queen Elizabeth used during her mourning". Jet itself is a gem that has been mined since BC. It is also found in ancient tombs. It seems that it was also used for monk rosaries.
---
Mourning Jewellery (Jet) is made of fossil trees. Therefore, it is flammable. Burned smoke is believed to fight off evil. It is useful as a powerful amulet against evil energy. It is also called "Black Amber" because it was mistaken for black Amber. Jet becomes charged when it is rubbed as well as Amber.
---
Mourning Jewellery (Jet) has the meaning and properties of enhancing the mental strength of the owner. It is a gemstone to prevent the owner from being dominated by "anxiety", "sadness", "fear", etc. It will keep the will of the owner strong. It also has the power to purify negative energy. It will regain calmness. It is also recommended to recover from a weak state.
---
The main ingredient of Mourning Jewellery (Jet) is "Carbon (C)". Since the main component is Carbon, the color is black. When it is polished beautifully, it emits a beautiful luster. It is also popular as a very light jewelry. Even if you wear a necklace, stiff shoulders will not occur. Even if you wear it for a long time, it doesn't leave a feeling of wearing.
---
The distribution volume of Mourning Jewellery (Jet) is not very large. You can get it at a highly specialized gemstone shop or jewelry store. Since the information is limited, please check out the "Jet" jewelry, too. The prices of Mourning Jewellery vary greatly depending on quality. The "production area" and "hardness" influence the quality. Higher quality type will have higher hardness. The most popular Mourning Jewellery is the necklace type. Other items such as "pierces", "earrings", "rings" and "bracelets" are available.
---
Mourning Jewellery (Jet) has the meaning and properties of enhancing "insight" and "deductive powers". It is a gemstone that deciphers the secrets hidden behind the problem. It tells you the important truth that only a few people notice. You'll get a hint to approach to good luck.
Author Hayasaka Yoshino

Hayasaka Yoshino is a stone healer that usually works in Tokyo area, Japan. Yoshino is also famous as a fortune teller and seen over 10,000 people. "Fortune-telling counseling", which finds out the best gemstone for the client, received a high reputation. Representative director of LWE Co., Ltd.
Other Gemstone Recommendation