Aqua Sapphire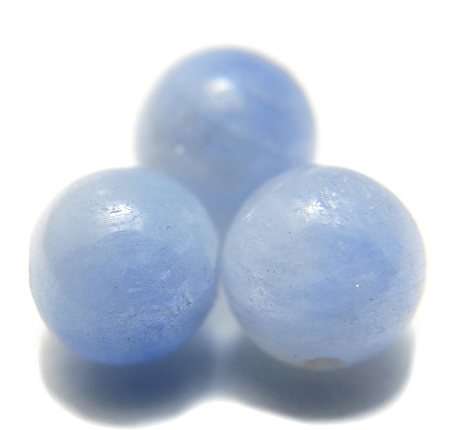 Aqua Sapphire has the meaning and properties to make the owner grab success. It is popular as a gem that invites "prosperity" and "good fortune". It holds every power necessary for success. Sapphire is a special amulet that has been used since BC. It has been used by many successful people in the long history. It continues to be loved by many millionaires and authorities.
---
Aqua Sapphire has the meaning and properties of enhancing vitality. It is a useful gemstone when you want "acting power" or "power to execute". It also reduces the risk of running out of stamina along the way. You will have the power to implement a goal to the end.
---
Aqua Sapphire has the meaning and properties of enhancing intuition. It is a gemstone to intuitively identify "good energy" and "bad energy". It will guide the owner naturally to the place where good energy flows. If you feel bad energy, it will avoid the risk in advance. It is also useful when you are forced to make important choices.
---
Sapphire is a gemstone classified as "Corundum". Corundum of "purple", "blue", "light blue", "green", "yellowish green", "yellow", "orange", "pink", "white", "gray", "black" and "transparent color" is classified as "Sapphire". The only "red" Corundum is called "Ruby". Sapphire is known for its very high hardness. It is the next hardest mineral after Diamond.
---
The distribution volume of Aqua Sapphire is small. The price is more expensive than general gemstones. The price of the highest quality Aqua Sapphire may be higher than that of Diamond. If you want a beautiful Aqua Sapphire, please make sure to have a large budget. Aqua Sapphire is a high-end jewelry material. It is processed into "necklaces", "pierces", "rings", "bracelets", and so on.
---
Aqua Sapphire has the meaning and properties to improve the ability to think. It has been called the "jewel of wisdom" since ancient times. It is a gemstone to make learning fun. It increases the ability to absorb new "knowledge" and "technology". It is also ideal when you want the applied skill of things.
---
Aqua Sapphire has the meaning and properties of enhancing mental power. It is a gemstone to overcome potential "fear" and "anxiety". It will give the owner "courage" and "confidence" to move forward. It is also recommended for those who are more responsible than ordinary people. There are many enthusiasts such as "independent enterprises", "company managers" or "team leaders".
Author Hayasaka Yoshino

Hayasaka Yoshino is a stone healer that usually works in Tokyo area, Japan. Yoshino is also famous as a fortune teller and seen over 10,000 people. "Fortune-telling counseling", which finds out the best gemstone for the client, received a high reputation. Representative director of LWE Co., Ltd.
Other Gemstone Recommendation