Black Agate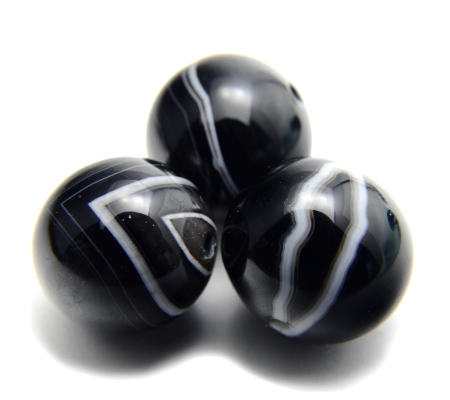 Black Agate has the meaning and properties of improving its owner's concentration. This gemstone is useful when you want to enhance your work efficiency. It will be effective to get rid of unnecessary thoughts and laziness. Your work would not be halfway done anymore.
---
Black Agate has the meaning and properties of balancing your mind and body. This gemstone will help you improve your rough daily life. It would keep your feelings calm and your mind clear. It will be useful to keep a peaceful life.
---
Black Agate has the meaning and properties of purifying negative energy. It is a useful gemstone to stop the flow of bad luck. It would also give you a chance to get back the flow of good luck. The luck you got would bring you even bigger happiness.
---
Black Agate is a variant type of Quartz. It is formed when many small crystals of Quartz gather. The ones without a pattern are called Black Chalcedony. Black Agate is a gemstone that has a mixed stripe pattern of black, gray, brown, and white. You can enjoy a mystic pattern of the gemstone. When the pattern is formed only with black and white, it is called Black Onyx. Black Agate, Black Chalcedony, and Black Onyx are often confused, so please be careful. If the pattern looks like an eye, it is called Eye Agate. It is valued as a special amulet.
---
Black Agate is mostly made into accessories using its beautiful pattern. Bracelets are the most popular. There are also necklaces, earrings, and rings. Tumbled stones, which are polished ores, are also popular.
---
Black Agate is fairly common in the market. You can find it easily by looking at several gemstone shops. The price is reasonable, and it is easy to try. Although it is sold at a low price, its power is strong, so it is a pretty good-deal gemstone.
---
Black Agate has the meaning and properties of opening up an unknown field. This gemstone could bring out your spirit of trying things. You would be able to get a chance to expand your future possibilities. It is also good to use when you need to reborn or make a revolution.
---
Black Agate has the meaning and properties of relieving stress in a good way. This gemstone will protect your mind from keeping bad stuff. It would prevent your feelings from exploding or going out of control. It also has the power to clearly separate what you want to do and what you don't want to do. This amulet can improve your character of enduring too much or self-sacrifice.
Author Hayasaka Yoshino

Hayasaka Yoshino is a stone healer that usually works in Tokyo area, Japan. Yoshino is also famous as a fortune teller and seen over 10,000 people. "Fortune-telling counseling", which finds out the best gemstone for the client, received a high reputation. Representative director of LWE Co., Ltd.
Other Gemstone Recommendation