Orichalcum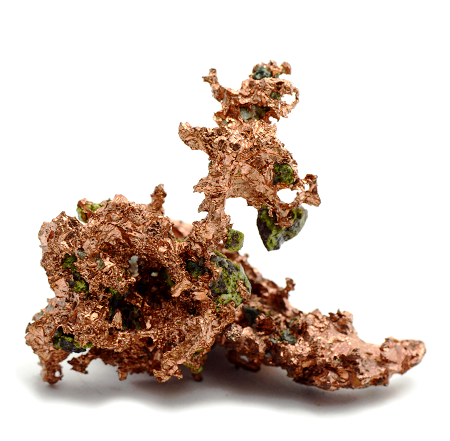 Orichalcum is a phantom metal. It appears in ancient literature, but the exact ingredients are unknown. Generally, it is interpreted as "Copper" or "Copper alloy". It is considered as a metal with "special power" and "rare value".
---
Orichalcum appears a lot in "fantasy novels" and the "field of games". Orichalcum in the fantasy world has the following characteristics:
- Very hard metal
- High scarcity value
- Generate the driving force of the machine
- Material for weapons and ornaments
---
Orichalcum is often written in "Copper color" or "Brass color". The surface has a beautiful metallic luster. There is the theory that it is the alloy of "Gold (Au)" and "Copper (Cu)". If it contains "Gold (Au)", its value becomes very high.
---
There are several natural stones that resemble the characteristics of Orichalcum. The most dominant gemstone is a mineral called "Chalcopyrite". The components of "Chalcopyrite" are "Copper (Cu)" + "Iron (Fe)" + "Sulfur (S)". It is widely known as an ore from which Copper (Cu) can be mined. It is an essential mineral for producing Copper products. If you want Orichalcum, please try "Chalcopyrite". The power of "Chalcopyrite" is presumed to resemble that of Orichalcum.
---
The natural stones that resemble Orichalcum are summarized below.
- Chalcopyrite
- Covellite
- Tetrahedrite
- Bornite
- Cuprite
- Chalcocite
- Native Copper
All are minerals containing "Copper (Cu)". If you are interested in the power of Orichalcum, please try these minerals.
---
Natural stones resemble Orichalcum are available from shops that are strong in minerals. "Chalcopyrite" is readily available. "Native Copper" is popular for its beautiful shape. If you want to wear it, "Cuprite" is a good choice. High quality "Cuprite" is processed into accessories.
---
Alloys resemble Orichalcum are as below;
[1] Brass
Alloy of "Copper (Cu)" + "Zinc (Zn)".
[2] Bronze
Alloy of "Copper (Cu)" + "Tin (Sn)".
[3] Red Gold
Alloy of "Gold (Au)" + "Copper (Cu)".
The power of these alloys is also considered to resemble that of Orichalcum.
Author Hayasaka Yoshino

Hayasaka Yoshino is a stone healer that usually works in Tokyo area, Japan. Yoshino is also famous as a fortune teller and seen over 10,000 people. "Fortune-telling counseling", which finds out the best gemstone for the client, received a high reputation. Representative director of LWE Co., Ltd.
Other Gemstone Recommendation