Pink Calcite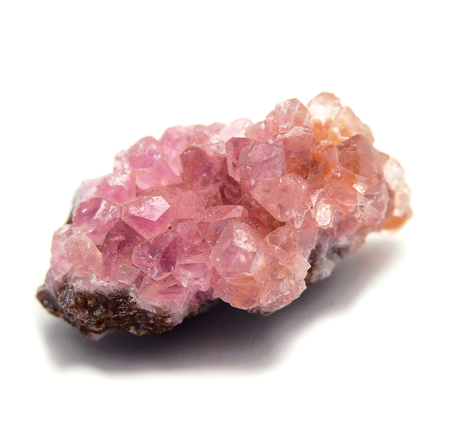 Love and Relationships

[1]

Enhance mutual satisfaction


[2]

Extract tenderness


[3]

Deepen your love for partners


[4]

Heal past wounds


[5]

Strengthen the bond between two people

Money and Business

[1]

Enhance your ability


[2]

Strengthen trust


[3]

Evaluated correctly by people


[4]

Ease tension and anxiety


[5]

Obtain collaborators

Other Energy

[1]

Boost self-confidence


[2]

Healing and comfort


[3]

Grow as a person of greatness


[4]

Help control emotions


[5]

Make a feeling positive

Pink Calcite is a gemstone with a meaning and properties of getting happiness. From ancient times, it has been used as a gemstone that symbolizes love and peace. The beautiful pink color is a symbol of affection. Pink Calcite can fill owner's heart full of love. This gemstone is good for people who want to control their emotion well.
---
Pink Calcite has a meaning and properties of becoming more generous. It would accept everything like a goddess and change to positive energy. It is also known as a gemstone that understands the true value of love. Pink Calcite is a gemstone that is preferred by healing professionals such as counselors or therapists. It is a good gemstone for all people in the service industry. You can get a lot of love by giving people love. It is also useful if you want to make a good relationship or build trust with clients. When you want to have good reputations and repeat rate, it is a good one to get.
---
The love wave motion of Pink Calcite can calm owner's mind down. This gemstone is famous for a wonderful healing meaning and properties. If you want to feel the energy more deeply, please do meditation with Pink Calcite in your hand. Just breathing deeply is also good if you don't know how to do meditation. You would be able to feel warm atmosphere on your hand when you really get relaxed. It is good to use when you want to ease nervousness or anxiety.
---
Pink Calcite has a meaning and properties of increasing self-confidence. It is recommended for people who can't love themselves. This gemstone is also useful when you want to have correct evaluation from others or enhance your ability. Pink Calcite can heal hurt feelings or trauma in the past. It is good to use when you want to be bright as you were originally. Your future will shine by clearing off the barrier from the past.
---
Calcite is a gemstone that has many different colors. The meanings and the effects will be slightly different by its color. Pink Calcite is known for its special power of love and healing. You might see it with another name Pink Manganese Calcite, but you will be able to receive the same power. The most popular color of Calcite is yellow. You can find Yellow Calcite in most of the stores. However, it would be difficult to find Pink Calcite. Please check the stores carefully if they have it or not. Pink Calcite is usually more expensive than Yellow Calcite. It would be better to check the budgets when you buy one.
Chakra Chart of Pink Calcite
9th Heaven Chakra
[God]

8th Air Chakra
[Cloud]

7th Crown Chakra
[Soul]

6th Third Eye Chakra
[Wisdom]

5th Throat Chakra
[Voice]

4th Heart Chakra
[Love]

3rd Solar Plexus Chakra
[Light]

2nd Sacral Chakra
[Guts]

Pink Calcite
[Beauty] attractiveness

0th Earth Chakra
[Person]
Combination
Author Hayasaka Yoshino

Hayasaka Yoshino is a stone healer that usually works in Tokyo area, Japan. Yoshino is also famous as a fortune teller and seen over 10,000 people. "Fortune-telling counseling", which finds out the best gemstone for the client, received a high reputation. Representative director of LWE Co., Ltd.
Other Gemstone Recommendation