Black Rutilated Quartz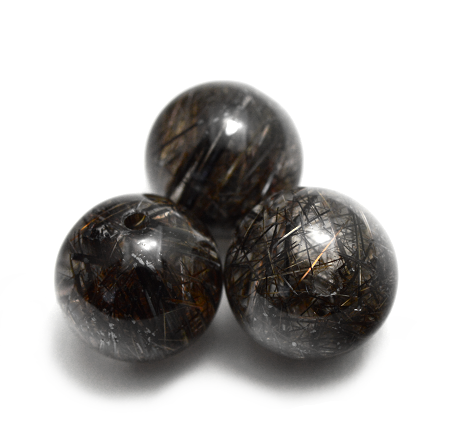 Love and Relationships

[1]

Attract a good match


[2]

Do not miss opportunities


[3]

Success of bargaining


[4]

Increase appeal


[5]

Fascinate with your own personality

Money and Business

[1]

Improve your mental agility


[2]

Grasp the opportunity of success


[3]

Enhance decision making


[4]

Make negotiations advantageous


[5]

Increase your luck in games

Other Energy

[1]

Awaken potential ability


[2]

Filled with energy


[3]

Encourage self-growth


[4]

Talisman against evil


[5]

Improve the flow of luck

Black Rutilated Quartz is a gemstone with a meaning and properties of enhancing intuition. It can find out and grab good chances and luck. This gemstone is useful to sense a chance of success and make it true. It is also good to use at important dealings or a big game or match. It can lead you to a victory without missing a chance.
---
Black Rutilated Quartz also has a meaning and properties of enhancing your wisdom. Not only intuition, it would give you the skill to analyze things thoroughly. It is effective when you are difficult to make a choice between the two or when you want to avoid unfavorable situations. There are many people that wear Black Rutilated Quartz as an amulet. It is supported by many business owners and executives that need to make important decisions. It would also give you power when you have to make a good deal on business.
---
There are two kinds of Black Rutilated Quartz. The one introduced here is Black Rutilated Quartz with black titanium dioxide. Another one is mixed with Black Tourmaline. They are both called black Rutilated Quartz, but the meanings and the effects are totally different. The price is also very different, so please look carefully for the one you need. The one with Black Tourmaline is also called "Black Tourmaline in Quartz." Kind shops show and sell with this name, too. Black Rutilated Quartz made of titanium dioxide is a very rare gemstone. You will need a big work and a big budget to get one. If you luckily find one, it would be better to buy it before it is sold out.
---
Black Rutilated Quartz is a gemstone with a meaning and properties of letting the owner grow. People have believed for its power to arouse unawaken talents. The holy energy of Black Rutilated Quartz can purify your soul. It would heal your past and let you have pure mind. It is also useful to get rid of negative energy that interrupts the growth. This gemstone is good for people who want to make their future bright.
---
Black Rutilated Quartz can fill energy to the owner. Shiny black needles inside has the power to bring in positive energy. It is good to use when you want to have more vigor or improve your skills. Black Rutilated Quartz can amplify absorbed energy. It is a gemstone that can cover all steps for energy: purify, absorb, and amplify. It is a best gemstone for people who want to make their circulation of energy and luck better.
Chakra Chart of Black Rutilated Quartz
9th Heaven Chakra
[God]

8th Air Chakra
[Cloud]

7th Crown Chakra
[Soul]

6th Third Eye Chakra
[Wisdom]

5th Throat Chakra
[Voice]

4th Heart Chakra
[Love]

3rd Solar Plexus Chakra
[Light]

2nd Sacral Chakra
[Guts]

1st Root Chakra
[Life]

Black Rutilated Quartz
[Person] Will Power
Combination
Author Hayasaka Yoshino

Hayasaka Yoshino is a stone healer that usually works in Tokyo area, Japan. Yoshino is also famous as a fortune teller and seen over 10,000 people. "Fortune-telling counseling", which finds out the best gemstone for the client, received a high reputation. Representative director of LWE Co., Ltd.
Other Gemstone Recommendation