Dendritic Quartz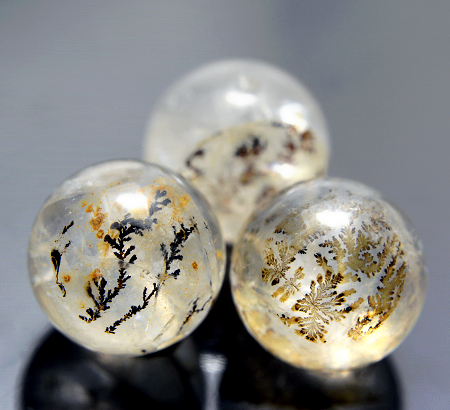 Love and Relationships

[1]

Deepen a relationship naturally


[2]

Develop a relationship


[3]

See through another's true heart


[4]

Repair relationships


[5]

Know true love

Money and Business

[1]

Advance your career


[2]

Foster talent


[3]

Expand business


[4]

Communication ability up


[5]

Increase income

Other Energy

[1]

Talisman against evil


[2]

Improve interpersonal luck


[3]

Rejuvenate


[4]

Get out of a crisis


[5]

Encourage self-growth

Dendritic Quartz is a gemstone with a meaning and effect of making its owner's life rich. It absorbs energy from surroundings well and make it into your power to open up your way. You would be able to have a lot of happiness and wealth by using it. Dendritic Quartz has been believed for its power to let things grow. It is good to use when you want to improve skills or grow business.
---
Inside Dendritic Quartz, there is a pattern like a plant. From old times, it has been used as a gemstone that has the energy of plants. That is why it has meanings and effects of growing energy. It would grow you big with good light and nutrition.
---
Dendritic Quartz has a meaning and effect of sensing energy. It is a good gemstone to check positive and negative energy. When it catches a good flow of luck, it would let you get it quickly. On the other hand, when it senses a negative flow, it would support you to get away from danger.
---
Dendritic Quartz is a gemstone that can make communication smoother. It would sense the feelings inside people's mind. You would be able to significantly improve human relationships by sensing the true feelings of others. Dendritic Quartz can let you avoid vain troubles beforehand. Please use it to improve the relationship with the one you love. The relationship will become a lot better by listening to your partner's wants.
---
Dendritic Quartz is a rare gemstone that is difficult to get. It is not sold in ordinary stores. You will need to look at competent specialty shops that have lots of kinds of gemstones. Please ask the stores for the stock if you need one. It will be expensive compared to common gemstones since it is a rare gemstone. You have to prepare big budgets. It is very difficult to get Dendritic Quartz, but the beauty and the power will definitely worth your hard work.
---
Dendritic Quartz has a meaning and effect of giving vitality to its owner. It has the power to find where energy is stuck and fix it. You would be able to get your vitality back by improving your energy circulation. It is also good to use when you want to relieve your mind or increase your motivation.
---
Dendritic Quartz is a gemstone that can purify energy. From ancient times, Quartz is famous for its power to ward off evil spirits. It would clear off all the negative energy around you. Its owner's energy will come back to a natural state.
Chakra Chart of Dendritic Quartz
Dendritic Quartz
[God] Creativity

8th Air Chakra
[Cloud]

7th Crown Chakra
[Soul]

6th Third Eye Chakra
[Wisdom]

5th Throat Chakra
[Voice]

4th Heart Chakra
[Love]

3rd Solar Plexus Chakra
[Light]

2nd Sacral Chakra
[Guts]

1st Root Chakra
[Life]

Dendritic Quartz
[Person] Will Power
Combination

+ Quartz
Improve the flow of luck
Author Hayasaka Yoshino

Hayasaka Yoshino is a stone healer that usually works in Tokyo area, Japan. Yoshino is also famous as a fortune teller and seen over 10,000 people. "Fortune-telling counseling", which finds out the best gemstone for the client, received a high reputation. Representative director of LWE Co., Ltd.
Other Gemstone Recommendation