Inclusion Quartz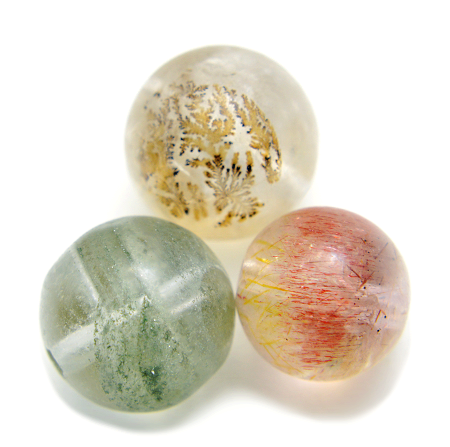 Inclusion Quartz is "Quartz" with "Inclusion". The basic power is the same as "Quartz". Energy characteristics change slightly depending on the type of Inclusion. It is a convenient amulet that you can try both powers of "Quartz" + "Inclusion".
---
The types of Inclusion Quartz are quite many. "Quartz" is likely to include Inclusion. For the main types, please check the list below.
(The detailed meaning and properties are written in the link destination).
Inclusion Quartz has the meaning and properties of amulet against evils. Quartz part has excellent purification capability. It cleanses the surrounding negative energy cleanly. It will protect the owner by coming dangers.
---
Inclusion Quartz has the meaning and properties to improve human relations. It is a gemstone symbolizing "coexistence" and "fellow". It is used when seeking a good understanding person. It is effective when you want "deep relationship" rather than "shallow relationship". It will also be useful for finding a marriage partner.
---
Inclusion Quartz has the meaning and properties to increase flexibility. It is a gemstone to positively absorb new knowledge and technology. It will break the limits barrier and show new possibilities. It is an effective amulet also to overcome a slump.
---
"Rutilated Quartz" is the most popular in Inclusion Quartz. Shining golden needles will stay inside Quartz. When trying Inclusion Quartz for the first time, Rutilated Quartz is recommended. It combines "beauty" and "strength of power". It is well-known and easy to obtain.
---
Inclusion Quartz will release a very mysterious atmosphere. It looks like various minerals are dancing in Quartz. It is exactly "natural specimen case". Quartz part is sturdy, so the internal minerals are not damaged. It is an item that gemstone collectors cannot resist. Furthermore, due to the characteristics of natural stone, the same shape doesn't exist with two. Please find only one Inclusion Quartz in the world and collect it.
---
Inclusion Quartz is available in many gemstone shops. The kinds of specialties are different depending on gemstone shops. When you want to collect lots, please search for multiple shops. A shop strong in Inclusion Quartz is fun just to visit. You will enjoy the excitement like when you visit a museum.
Chakra Chart of Inclusion Quartz
9th Heaven Chakra
[God]

Gray Inclusion Quartz
[Cloud] Application

Purple Inclusion Quartz
[Soul] Intuition

Blue Inclusion Quartz
[Wisdom] Thinking Ability

Blue Inclusion Quartz
[Voice] Expression

Green Inclusion Quartz
[Love] Tolerance

Yellow Inclusion Quartz
[Light] Productivity

Orange Inclusion Quartz
[Guts] Persistence

Red Inclusion Quartz
[Life] Life Energy

Black Inclusion Quartz
[Person] Will Power
Author Hayasaka Yoshino

Hayasaka Yoshino is a stone healer that usually works in Tokyo area, Japan. Yoshino is also famous as a fortune teller and seen over 10,000 people. "Fortune-telling counseling", which finds out the best gemstone for the client, received a high reputation. Representative director of LWE Co., Ltd.
Other Gemstone Recommendation