Moss Agate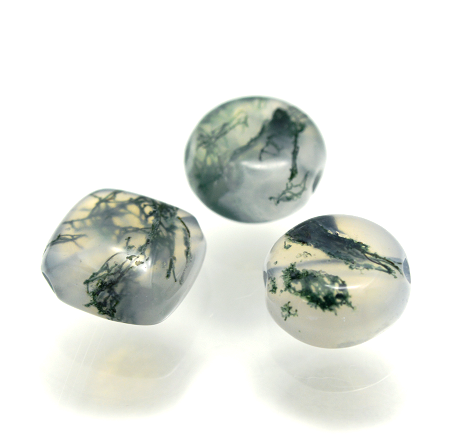 Love and Relationships

[1]

Develop relationships


[2]

Accomplishment of a good match


[3]

Distinguish the feelings of another


[4]

Broaden your mind


[5]

Get comfortable

Money and Business

[1]

Improve your creativity


[2]

Make things prosperous


[3]

Clarify purpose


[4]

Develop inner strength


[5]

Increase your ability to act

Other Energy

[1]

Balance the mind


[2]

Purify negative energy


[3]

Give courage


[4]

Relieve anxiety


[5]

Make things reborn

Moss Agate is a gemstone that has a meaning and properties of balancing your vital energy. This gemstone is like a cluster of Earth energy. It would connect the owner with the Earth and help your energy flow well. Moss Agate can return excessive energy or negative energy to the nature.
---
Moss Agate has a meaning and properties of finding your goal of life. It would remind your mission as a living being by getting connected with deep inside the Earth. This gemstone would purify your mind and soul, and tell you what you need to do next.
---
Moss Agate is known for a symbol of richness and prosperity. It is a gemstone that can stimulate your creativity and support you make a progress in life. Moss Agate can make people's mind strong and give courage to them. It is good for people who easily get terrified or anxious. Moss Agate has great energy of nature in it, so it would support you to live strong.
---
Moss Agate is basically a green gemstone. Many colors, such as black, white, red, blue, yellow, or brown are mixed in it. The color differs by its production area and time, so please choose the one you like. The green of Moss Agate has a meaning and properties of strengthening the soul. It has been believed that it would encourage the growth of soul, just as plants grow. Please try using Moss Agate if you want to have more self-confidence or solve conflicts in your mind. It can make the owner's thoughts clearer and reduce perplexity.
---
If you want to achieve your goal of life, please try using Moss Agate. Moss Agate has a meaning and properties of enhancing creativity and the power to take actions. It would support you imagine your dream specifically and make it come true. This gemstone is good for people who feel like your energy is closed in you or people who have big anxiety to the future.
---
From ancient times, people believed that Moss Agate has divine protection of the nature and the spirits. Moss Agate has a meaning and properties of receiving invisible messages. It would improve your sensitivity by getting connected with energy in the nature. Moss Agate also has a meaning and properties of making people generous. Please use this gemstone if you are more likely to confine your feelings or not good at expressing yourself. The healing and revitalizing energy of the nature would keep the owner's mind calm. Please try the meaning and properties of Moss Agate if you feel like your energy is inharmonious.
Chakra Chart of Moss Agate
9th Heaven Chakra
[God]

8th Air Chakra
[Cloud]

7th Crown Chakra
[Soul]

6th Third Eye Chakra
[Wisdom]

5th Throat Chakra
[Voice]

Moss Agate
[Love] Tolerance

3rd Solar Plexus Chakra
[Light]

2nd Sacral Chakra
[Guts]

1st Root Chakra
[Life]

0th Earth Chakra
[Person]
Moss Agate Data
Chemical formula
SiO2
Mohs scale
7
Specific gravity
2.58-2.62
Production
India
Brazil
Uruguay
Combination
Author Hayasaka Yoshino

Hayasaka Yoshino is a stone healer that usually works in Tokyo area, Japan. Yoshino is also famous as a fortune teller and seen over 10,000 people. "Fortune-telling counseling", which finds out the best gemstone for the client, received a high reputation. Representative director of LWE Co., Ltd.
Other Gemstone Recommendation