Green Chalcedony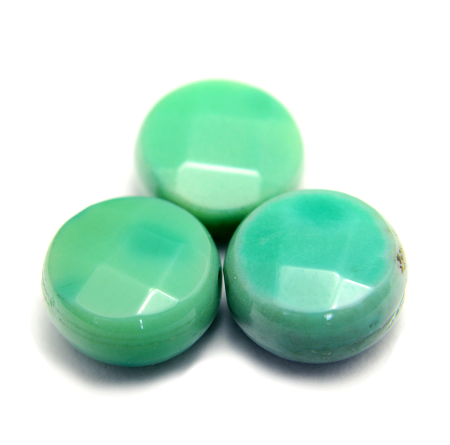 Love and Relationships

[1]

Build a truthful relationship


[2]

Take you into peace


[3]

Have confidence in yourself


[4]

Advance a relationship


[5]

Distinguish the feelings of another

Money and Business

[1]

Exercise latent talent


[2]

Flash new ideas


[3]

See the true value


[4]

Advance towards a goal


[5]

Advance your career

Other Energy

[1]

Strengthen the soul


[2]

Increase identity


[3]

Promote mental growth


[4]

Heal your heart


[5]

Talisman against evil

Green Chalcedony has a meaning and properties of giving owner courage. It is a gemstone known for strengthening the soul. Many influential people are a fond of it. Green Chalcedony is also famous for a gemstone to increase originality. This is the best gemstone for people who want talent or uniqueness. It has the power to express your own world.
---
Green Chalcedony can make owner's feelings calm. It is known as a great healing gemstone. You would be able to receive new ideas or inspiration by having a calm mind. Green Chalcedony can see through the true value of things purely. This is a good gemstone for people who want to enhance insight. It is useful when you want to show out new information or value.
---
Green Chalcedony can protect your heart from evilness. From ancient times, green was the symbol of heart and soul. Green Chalcedony is good for strengthening your soul. It would protect you from evil energy and keeps your mind healthy. This gemstone is good for an amulet, too.
---
Green Chalcedony is in a group of Quartz. The crystal structure is slightly different, but basic components are very similar. Quartz is a gemstone that is used for purifying energy or used as a talisman. It can wash off all negative energy by its pure water energy. Green Chalcedony is a good amulet because it has the character of Quartz.
---
There are natural-colored ones and dyed ones for Green Chalcedony. Dyed ones are more common and we use this type more. Chalcedony used as a basis is a natural gemstone and not an artificial gemstone. It is dyed in green to make it more beautiful for accessories. Natural-colored ones are very difficult to get since there are only few in the market. You can have same meanings and effects with dyed Green Chalcedony. It is better to look for common Green Chalcedony first.
---
Green Chalcedony has a meaning and properties of supporting mental growth. Its unique green is the symbol of trees. Your mind and skills will grow like a tree growing with light and water. By having good growth, your durability of mind will increase. You would be able to have strong mind that doesn't get affected from many kinds of stress.
Chakra Chart of Green Chalcedony
9th Heaven Chakra
[God]

8th Air Chakra
[Cloud]

7th Crown Chakra
[Soul]

6th Third Eye Chakra
[Wisdom]

5th Throat Chakra
[Voice]

Green Chalcedony
[Love] Tolerance

3rd Solar Plexus Chakra
[Light]

2nd Sacral Chakra
[Guts]

1st Root Chakra
[Life]

0th Earth Chakra
[Person]
Combination

+ Emerald
Build a rich relationship
Author Hayasaka Yoshino

Hayasaka Yoshino is a stone healer that usually works in Tokyo area, Japan. Yoshino is also famous as a fortune teller and seen over 10,000 people. "Fortune-telling counseling", which finds out the best gemstone for the client, received a high reputation. Representative director of LWE Co., Ltd.
Other Gemstone Recommendation